A new free exhibition at Barbican Music Library entitled Women in Jazz – a Celebration of the Past, Present and Future, a collaboration with the National Jazz Archive, presents a musical and social survey of the rich contribution women have made to jazz over the last 100 years. It also considers the talented upcoming generation who herald an exciting new era. Although performers such as Ella Fitzgerald, Billie Holiday and Cleo Laine have become household names, many others, particularly instrumentalists, have been unfairly neglected and recognition for their achievements is long overdue.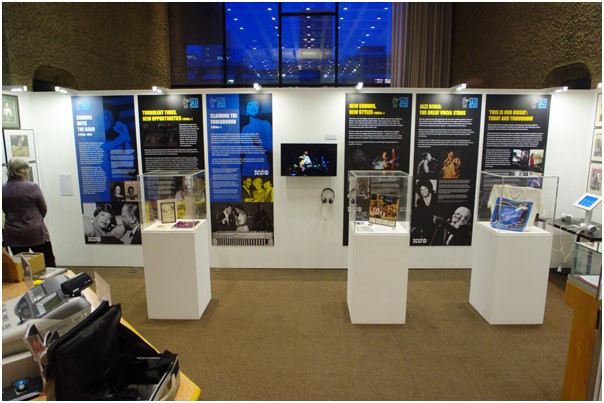 A series of printed panels narrates the story of women jazz performers from the 1920s, when female blues singers were popular with black American audiences, through the era of great vocal stars such as Ella Fitzgerald and Sarah Vaughan, to the present day; the concluding panel looks at the current situation, and the concerns around gender issues which need to be addressed by the jazz world. These are complemented by a selection of photos, posters, journals, video and memorabilia, all of which are drawn from the extensive resources of the National Jazz Archive which is celebrating its 30th anniversary. A video display features the Guest Stars sextet performing in the early 1980s followed by interviews with members of the band, and an iPad provides an opportunity for customers to watch selections from the award-winning documentary, The Girls in the Band.
The exhibition focuses on instrumentalists such as Valaida Snow, Kathy Stobart, Deirdre Cartwright, and Marian McPartland. As the future is as important to the National Jazz Archive as the past, the current crop of trail-blazing female artists is also featured along with the organisations, publications and venues which have contributed to the emerging scene.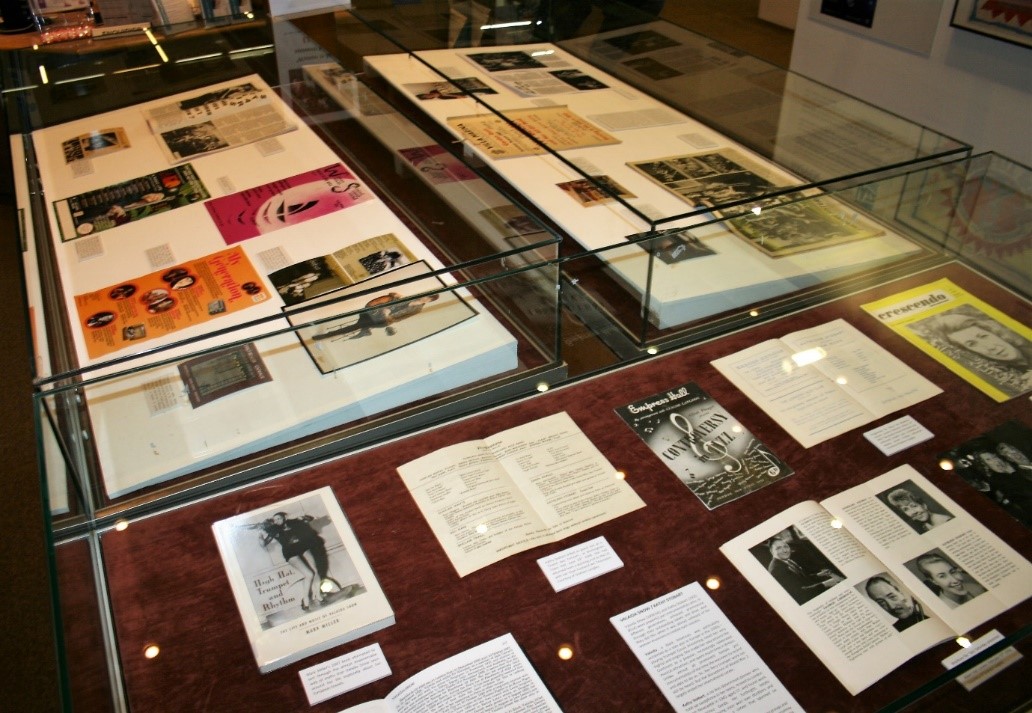 Highlights from the exhibition include: letters written by Billie Holiday to an English fan; a selection of framed album and magazine covers; and a series of printed fabrics produced by students with support from the charity, F.A.D. (Fashion Awareness Direct), entitled Black Icons of the British Jazz Age 1920-1939. The Archive has also provided a selection of albums on LP and CD, featuring some important contemporary UK-based female instrumentalists, which can be heard on the Library's Listening Station.
Women in Jazz, which runs until 31st December, responds to the Barbican Centre's 2018 cross-arts season, The Art of Change, which explores how artists respond to, reflect, and potentially effect change in, the social and political landscape. It was formally opened by Archive patron, Baroness Valerie Amos, at a private view which also included live music from a trio comprising Deirdre Cartwright (guitar), Louise Elliott (flute and sax) and Alison Rayner (bass). Deirdre Cartwright, also a patron of the Archive, has nurtured many promising artists from the next generation of performers.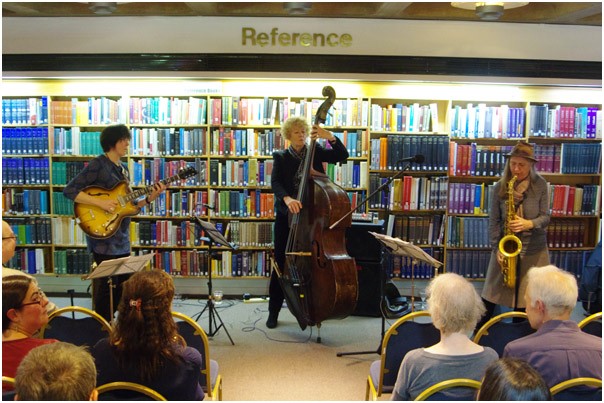 I am grateful to the staff at the National Jazz Archive for all of their hard work on this project, and to Brian O'Connor for the use of his photographs.
Richard L. Jones
(Music Librarian, Barbican Music Library)