Last Tuesday's Christmas showcase at Westminster Music Library was anything but a "Silent Night", as our very own Joint Force Singers Choir* gave their debut public performance in festive style. Keen followers of Westminster Music Library's community events may already know about our flagship choir, whose activities so far have included interactive workshops in the Library, part of a special festive concert at Lord's Cricket Ground, and joining some of the Garrison's army musicians at The Wellington Barracks Christmas market.
Tuesday evening's event, however, was particularly significant; this was the first concert put on exclusively by the choir and open to the public. As well as having a huge turnout from our local community, guests of honour included Tri-borough Director of Libraries Mike Clarke, London Garrison Welfare Officer Sergeant Tim Heale, Royal College of Music Chief Librarian Peter Linnitt, and Westminster Councillor Rachael Robathan, the City Council's Armed Forces Champion.
Although the concert was managed and organised by the Westminster Music Library Team, this was something of an opportunity for us to step down from our usual roles as performers and allow Joint Force Singers to take centre stage.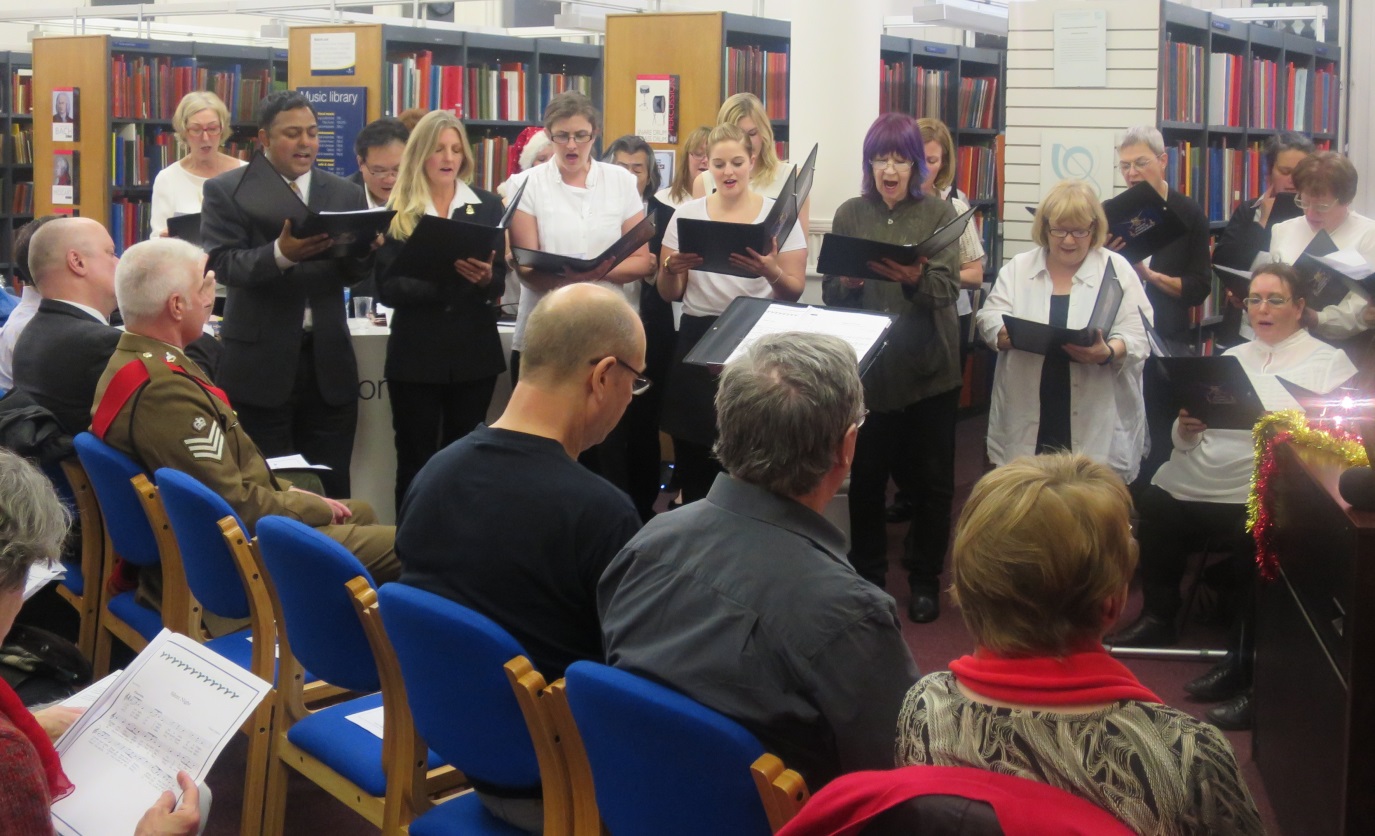 The Joint Force Singers Choir, formed just three months ago, presented the jam-packed Library with a tasteful mixed programme of choral works and participatory carols. However this was no "typical" Christmas programme, alongside irresistible classics like Away in a Manger were some less familiar tunes. Would a typical carol concert contain rousing protest number The Diggers' Song, or folk song Johnny Has Gone for a Soldier? No! – however, our choir took these in their stride and the audience loved it. "Beautifully sung, an excellent and original programme, even the little children in the back row were in awe" commented one attendee. We are proud that our choir stands out from others as being prepared to tackle unfamiliar pieces and challenge audience perceptions of what a Christmas concert should sound like.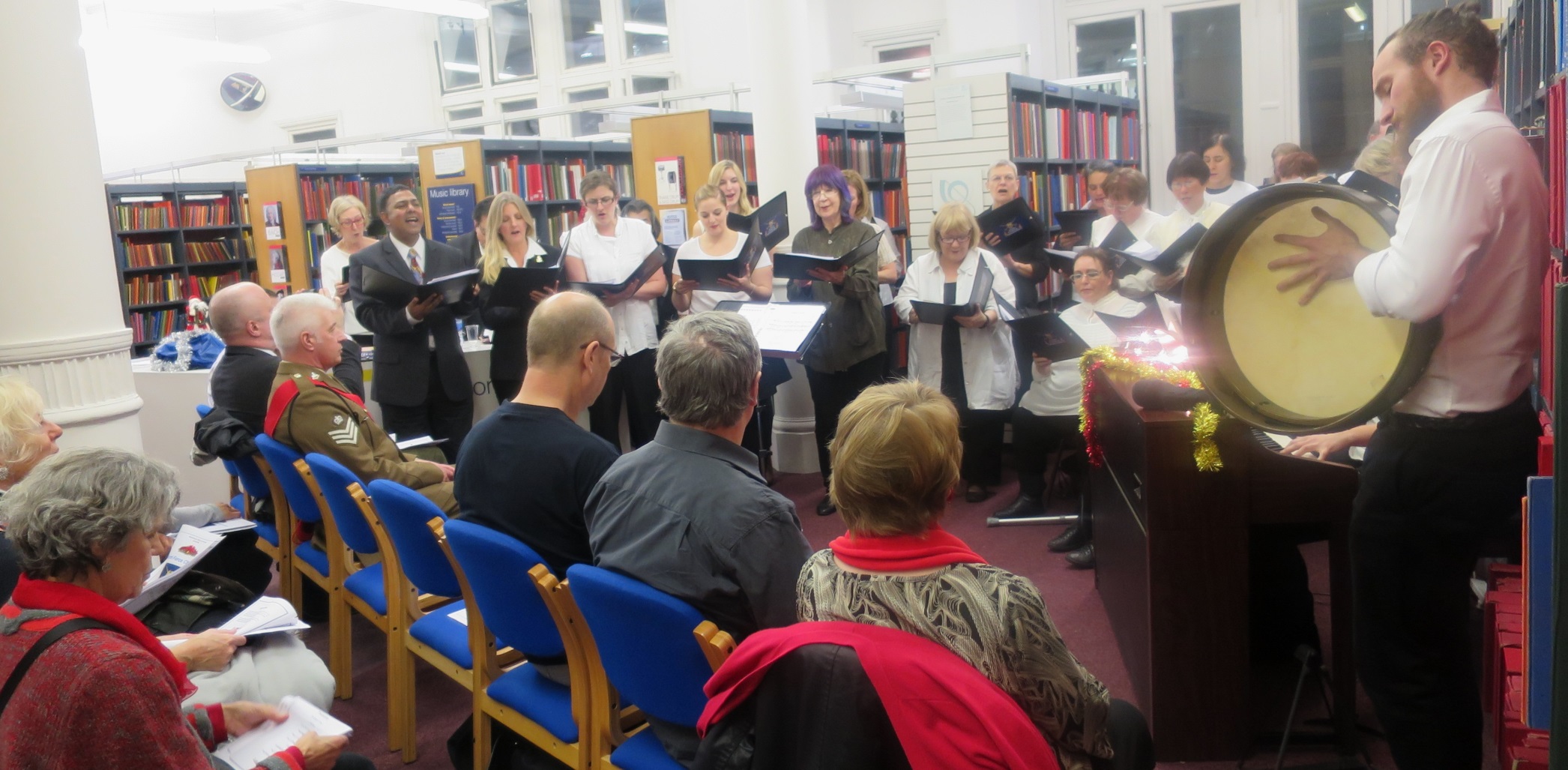 Leading the choir with characteristic flair was Ruairi Glasheen. From day one Ruairi has been highly valued as the Joint Force Choir's Musical Director, and Tuesday's Christmas concert gave audience members a chance to see his natural charisma in action. As well as coaching the choir week by week, choosing repertoire and conducting, Ruairi revealed he had another hidden talent: playing the bodhrán** .  Instead of conducting the first piece, he kept time with a constant drum beat, which not only brought The Diggers' Song to life but also delighted the children in our audience.
We can by no means neglect to mention our faithful accompanist, Hélène. With the piano decked out in tinsel and fairy lights –her brilliant playing provided a steady anchor for our singers.
With such talented individuals leading our choir, it is no surprise that they were on top form. My own personal favourite carol, Hark! the Herald Angels Sing was sung in perfect  four-part harmony, and the brave sopranos who performed the descant part in the last verse deserve special mention. A yuletide classic – We wish you a merry Christmas was transformed into Merry Christmas Cha-Cha-Cha: a lively arrangement of this much loved Christmas song – the altered rhythms of which threw off any audience members attempting to join in, but were an impressive example of the choir's accuracy of timing. For such a young choir, and with so many having no previous formal singing experience, the concert was hugely impressive, and a sure inspiration to our audience. Many commented afterwards that they couldn't believe the Choir had only been rehearsing for just three months.  There are still a few places available in the Joint Forces Choir for anyone wishing to join – just email jointforcesingers@gmail.com. No singing experience required!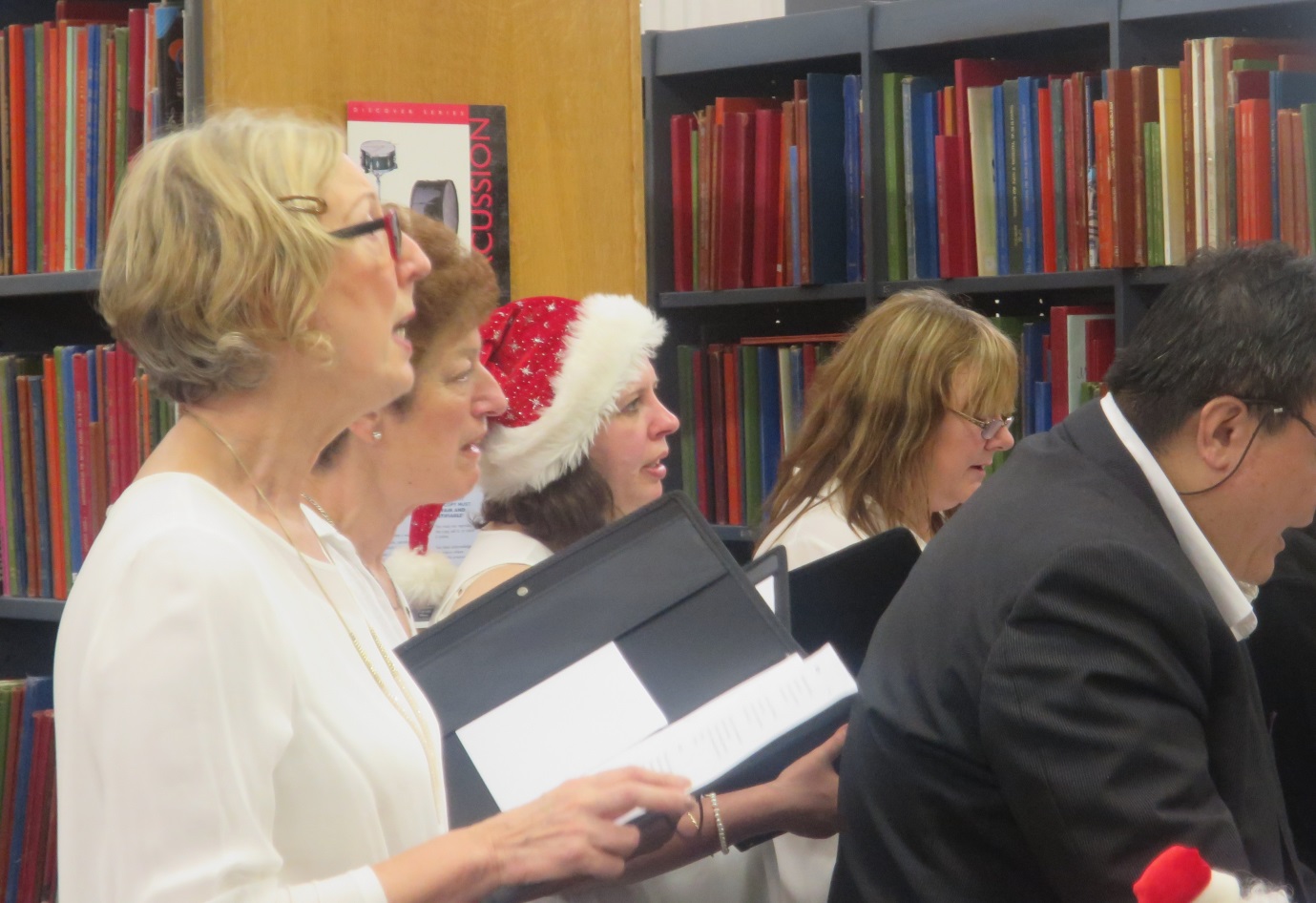 We are nearly half way through our year-long Joint Force Singers project, but fear not, we have many more exciting performances planned at prestigious venues across Westminster. We are thrilled by the success of our Choir's debut public performance, and are sure of great things to come. If they can put on a brilliant Christmas concert "in the bleak mid-winter", they can do it any time of year.
*Joint Force Singers is funded by the Armed Forces Community Covenant Grant Scheme, which funds local projects that bring together residents with members of the Armed Forces. The Community Covenant strengthens ties between local communities and the Armed Forces.
**The bodhrán is a traditional Celtic frame drum; the cross braces and laminated rosewood strengthen the shell of this goatskin-covered instrument. The Irish word bodhrán, indicating a drum, is first mentioned in a translated English document in the 17th cent…wait a minute – visit your friendly local Music Library if you want to know more! [eds.]
Jon Frank, Westminster Music Library