The Branch's annual Academic and Public Music Library seminars were again combined into a single event this year, on the afternoon of Wednesday 17 November. As in 2020, COVID made it more practical to organise a Zoom, rather than in-person, event, one silver lining to this continuing pandemic cloud being that attendance at the seminar was very good, with 33 attendees present for the majority of the afternoon.
This was the first real opportunity for members of IAML (UK & Ireland) to meet to discuss their work experiences during COVID, and to talk about the resumption of services after the various lockdowns that we all have had to endure since March 2020. Lee Noon (Leeds City Libraries) and Martin Holmes (the Bodleian Library, Oxford) provided helpful and practical context concerning the particular ways in which COVID had affected their libraries. For Lee, being able to restart a sets-lending service was not just a good thing in itself, but reflected hopes for the full resumption of music making in his community – and, by extension, across the country. It was very heartening to hear how much borrowers continue to appreciate the loan of performance sets, with some groups now requesting more material than before because of increasing membership. Martin's comments also touched on the importance of bringing people what they need during difficult times, but in the Bodleian's case this is principally research material. Since the Bodleian is not a lending library, simply being able to reopen a study environment that users can visit in person has been crucial for them.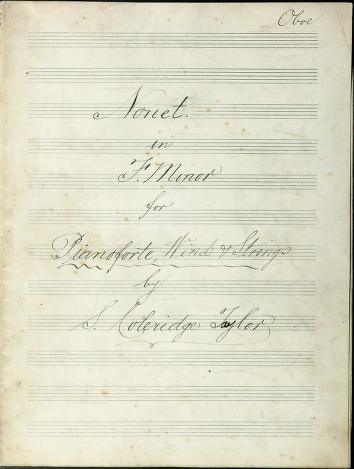 After a short break, Jonathan Frank (Royal College of Music) and Tonya Chirgwin (Royal Northern College of Music) talked respectively about the Royal College's special collections in the digital age, and about how public library activity differs from academic (music) library work. Very few of us ever get the opportunity to work in both sectors, and I was left wondering whether any other members of the seminar's audience had such experience. Jonathan's presentation was a fine lesson in how technology can be used creatively and imaginatively to make special collections material available to the broadest possible audience. The RCM is extensively using the Internet Archive (archive.org) as its public platform for high-quality scans of materials such as Samuel Coleridge-Taylor's Nonet (see illustration), along with IMSLP.
Another special collection was reported upon at the beginning of the News and Updates session that concluded the afternoon. This time it was the books and music (including some music manuscripts) of Ebenezer Prout (1835-1909), first Professor of Music at Trinity College Dublin. The collection was donated to TCD at the beginning of the twentieth century, and for decades Prout's own card index was the only finding aid for this material. Roy Stanley has now finished cataloguing it online. It's heartening to know that small and medium-scale projects of this sort still go on, as they have much value. Other contributions during the session came from Claire Kidwell of Trinity Laban (concerning trade and copyright matters) and Charlotte Jones of the Barbican Music Library (on Encore21*).
John Wagstaff
Chair, IAML (UK & Ireland) Events and Training Committee
* The launch of Encore21, IAML (UK & Ireland)'s discovery tool for performance sets, must be among the Branch's most significant recent achievements. For more information, go to https://encore21.info/