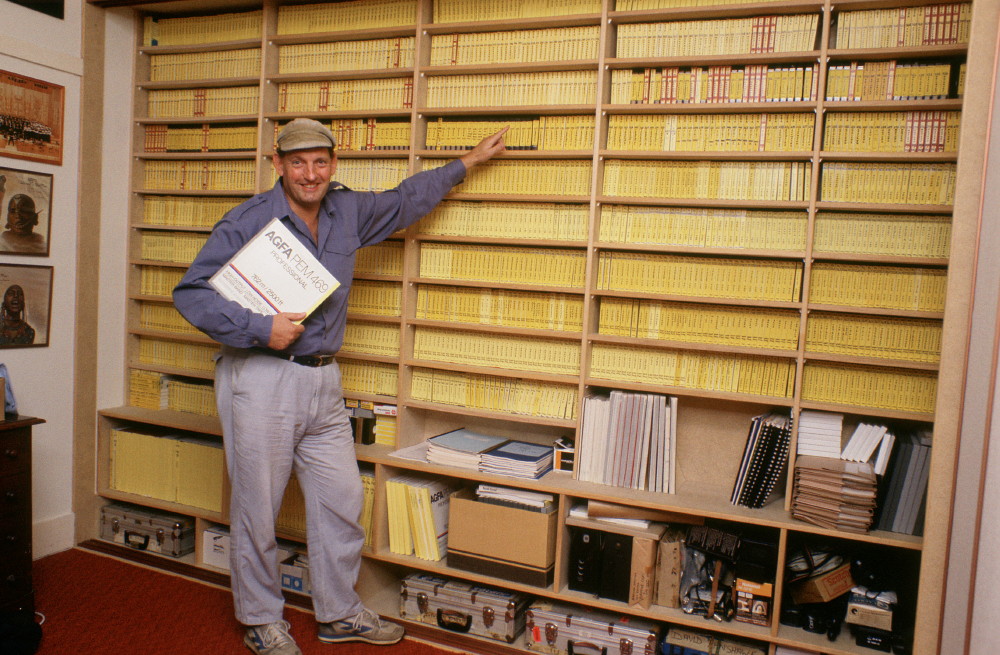 Jane Fanshawe got the ASW off to a thrilling and foot-tapping start with a talk on the life and work of her husband, David – ethnomusicologist, composer, and champion of world music. Now housed in a converted stable-block among the Malvern Hills, Jane has an enormous collection of reel-to-reel tapes recorded by David on his travels principally in Africa and the Pacific Islands; there are also over 60,000 images, and David's journals.
David's first work was as a documentary film editor and sound recordist (this would prove to be very helpful experience). He struggled with dyslexia, which was not recognised at the time, but managed to win a scholarship in 1965, when he was 23, to study composition at the Royal College of Music.
David was always a keen traveller, and had an epiphany when he heard a date-picker singing at dusk in the Middle East. That moment changed his life, and David set out on an odyssey that would take him down and across Africa recording the music of ordinary peoples' lives as he travelled.
Armed with a generous grant of £500 from the Ralph Vaughan Williams Trust, Fanshawe immediately spent £450 on some state of the art recording equipment, leaving him just £50 to make his way down the Nile.
There was plenty of adventure along the way: when his canoe was overturned by a hippo in Kenya, David managed to clamber ashore, but his recording equipment was lost. Finding a nearby tea-plantation, David turned up looking for shelter, and was promptly invited to Christmas dinner. Over lunch he discovered that the friendly family were the Brookes of Brooke-Bond fame; and they promptly bought him a new tape-recorder before sending him on his way.
Having spent nearly 10 years travelling around Africa and the Middle East, David looked for a new challenge, and by the simple expedient of sticking a pin in a map decided to explore the music and culture of the Pacific Islands. David spent ten years travelling across the Pacific, battling hurricanes, and recording the music of the peoples of Micronesia, Melanesia and Polynesia.
My particular favourite among a huge variety of richly diverse music from these years was the joyous bamboo band music of the Wagi Brothers of Papua New Guinea. The musical instruments consisted of large bamboo pipes of varying lengths, played by slapping the tops with rubber flip-flops! I find it impossible not to smile while listening to this; it's a great example of David's belief that music is an international system of communication, reaching beyond society, race, and culture.
A constant theme looking back over the 50 years since David first started his African travels was destruction. The Marsh Arabs that David recorded in Iraq, and the royal musicians recorded in Uganda are dead or dispersed by dictators – In Uganda the music of the Bugandan Royal Court was specifically targeted, thankfully it is now making a bit of a comeback; while climate change and the encroachment of western civilization has affected communities throughout the Pacific – there was a particularly poignant slide showing residents of a small island seeing television for the first time, ironically it was also their first introduction to western music – an Elvis Presley film.
Jane's use of audio montages and slides from the collection showed the diversity of world music; but it also showed what we hold in common. A love of music across cultures, its use from work to recreation, for celebration and for mourning. It also showed how fragile music can be, as ancient traditions are swept aside by a fast changing world; but music unites as much as it divides. It is truly a symbol of one world. For more information on the life and work of David Fanshawe, and for recordings and DVDs of his music and travels go to Fanshawe One World Music.
MJ