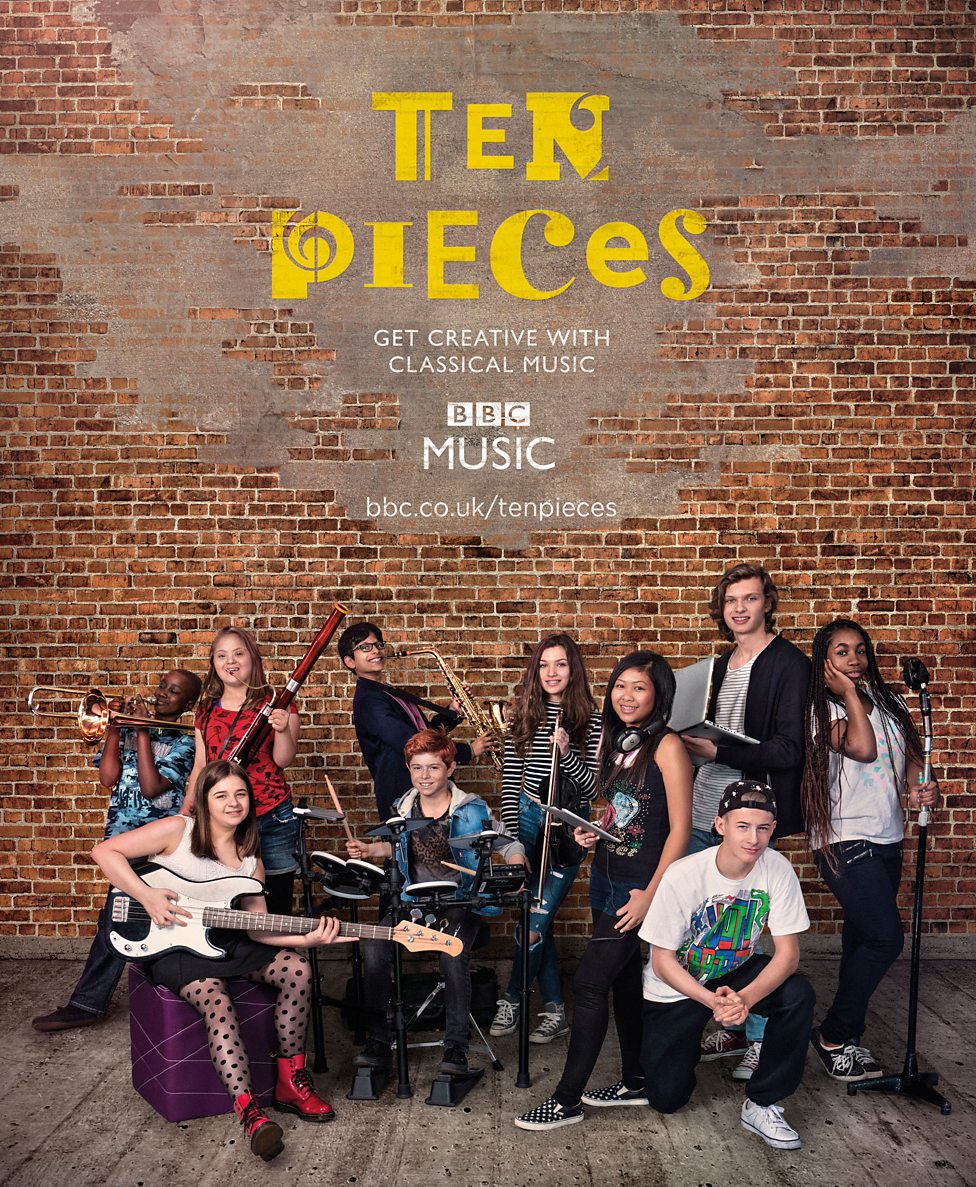 "It's Monday morning, and you're faced with 30 sceptical 13-year-olds." So begins Helen Wallace's article on Ten Pieces II in this month's BBC Music magazine, describing a scene assuredly all-too-familiar to many a secondary school music teacher. Music – and, in particular, classical music – is indeed subject to scepticism, disdain and even ridicule by the millennial generation. What is a music teacher to do, when classical music is, in the words of one young man quoted in this article, "just for old people who sit in chairs all the time"? This is where the BBC's Ten Pieces Secondary comes in. Following last year's successful Ten Pieces Primary, which saw primary-aged children from up and down the country participating in musical activities, this year the BBC takes on a much tougher crowd… teenagers!
The premise of Ten Pieces is simple. Using a "repertoire" list of ten pieces of music, secondary-aged pupils will engage in workshops, projects and performances designed to open their eyes to the incredible diversity of the classical music world. This is more than a mere rundown of music history from Byrd to Birtwistle, though: these ten pieces have been specially selected on the grounds of their enduring appeal, ground-breaking innovation or universal accessibility.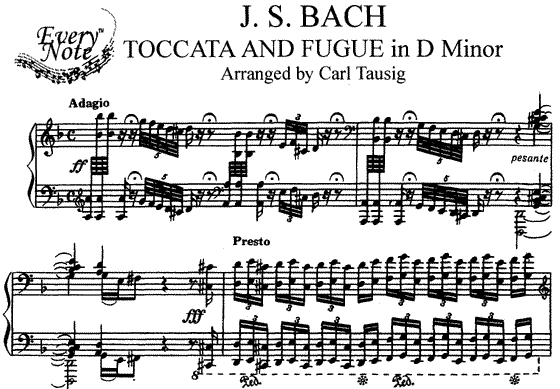 Take Bach's instantly-recognisable Toccata and Fugue in D Minor, and especially its immortalisation in Stokowski's 1920s orchestration. As it inspired children in Disney's Fantasia (itself an innovative way of reaching new audiences with classical music), the hope is it will also inspire them today. On the other hand, consider Gabriel Prokofiev's Concerto for Turntables and Orchestra. While many music fans watched cynically as it was performed in 2012's Proms, music teachers unanimously tell us something different: it had young people engrossed. As Alpesh Chauhan, assistant conductor of CBSO, tells us, "You can sit a child down and tell them to listen to a Beethoven symphony. For some, they're gripped… But it won't work for everyone." That key word – everyone – embraces what Ten Pieces is all about, and explains why as many as ten pieces are chosen for exploration: there will be something for everyone.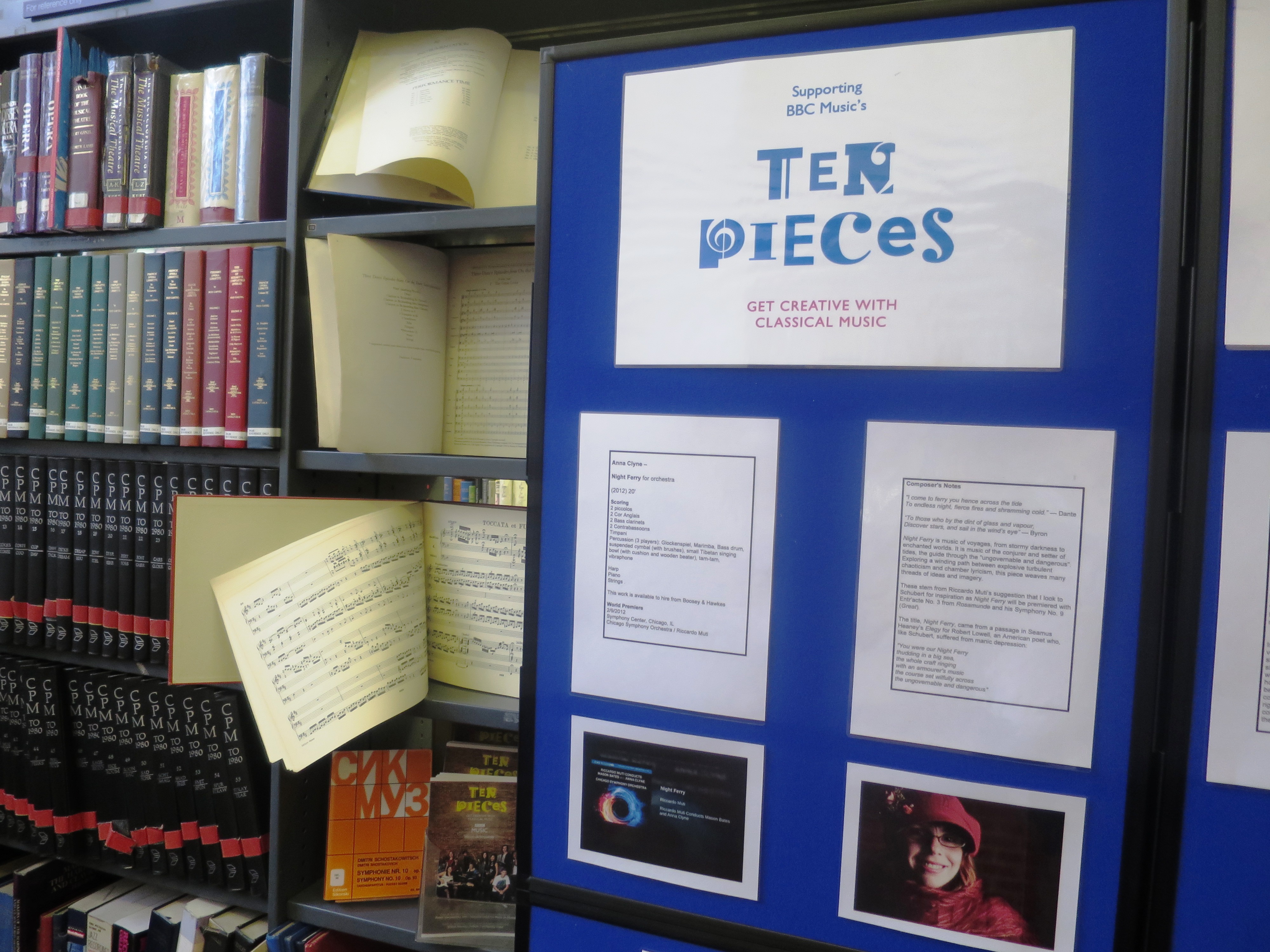 Here at Westminster Music Library we, too, believe that music is for everyone. What started as a small, private collection of mostly contemporary music scores (a fascinating collection, but, admittedly, not to everyone's taste) has expanded over the years into a multifaceted assemblage of music from and for all walks of life, which is the Music Library as we know it today. We, too, partner with local schools, and past events we've hosted have shown to us what the BBC has also found to be true: young people do love music, if they open their minds to discover their own musical tastes. We are pleased to be hosting a Ten Pieces display in the Library, which provides information particularly about those pieces on this year's list which may be more difficult to research: Prokofiev's Concerto (see above) and Anna Clyne's Night Ferry. Also on display are scores, freely available for any library member to borrow, of many of the pieces from this year's selection.
https://www.facebook.com/BBCPhilharmonic/videos/1124806610879971/
Here is the list, in full, of this year's Ten Pieces:
Bach arr. Stokowski – Toccata and Fugue in D Minor, BWV 565
Haydn – Trumpet Concerto
Bizet – Habanera and Toreador Song from Carmen Suite No. 2
Wagner – Ride of the Valkyries from Die Walküre
Verdi – Dies Irae and Tuba Mirum from the Requiem Mass
Gabriel Prokofiev – Concerto for Turntables and Orchestra
Shostakovich – Symphony No. 10 – Scherzo
Vaughan Williams – The Lark Ascending
Bernstein – Mambo from West Side Story
Anna Clyne – Night Ferry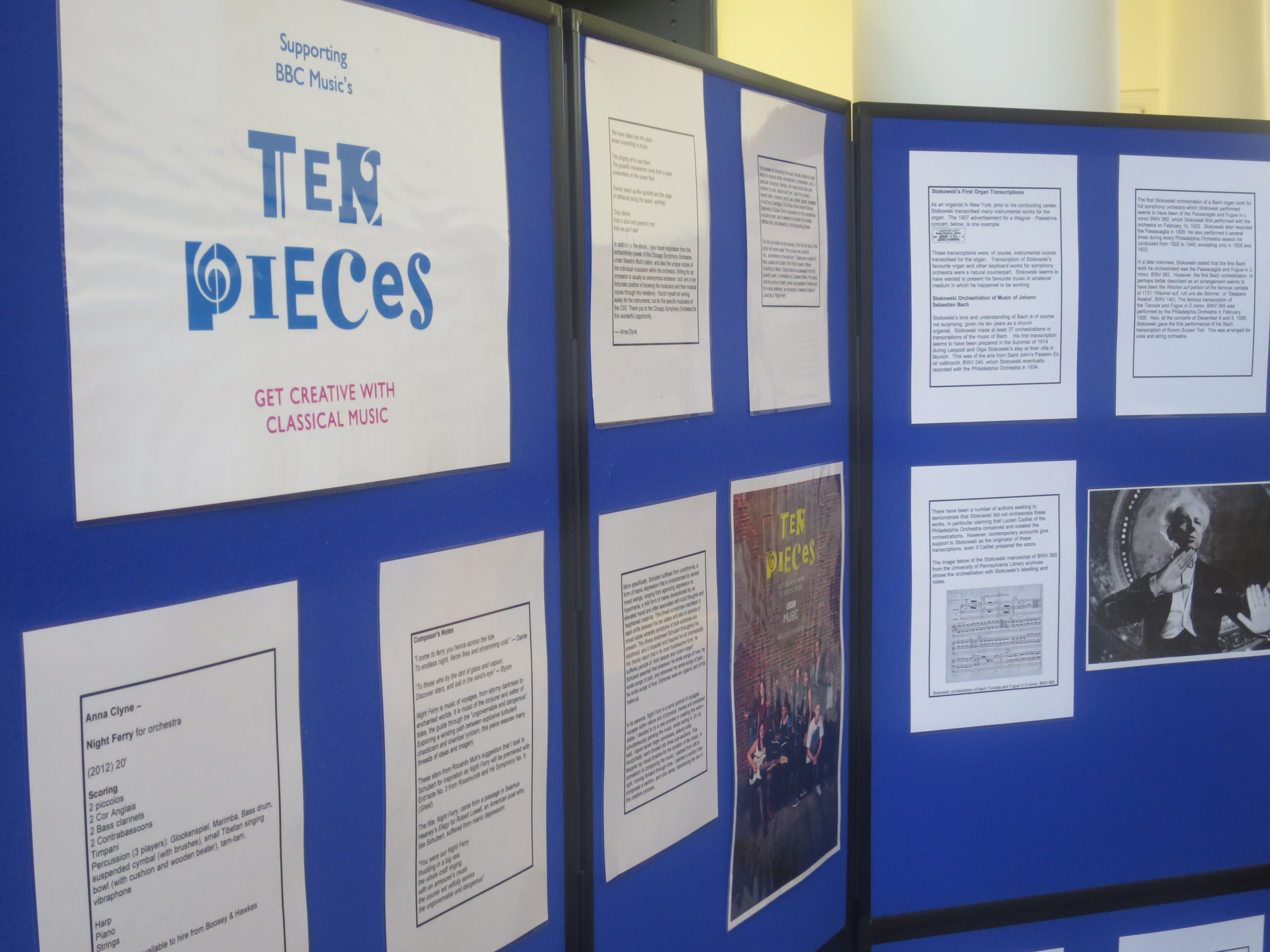 Even a quick glance at our catalogue reveals just how much Westminster Music Library contains to assist performance of, and discovering more about, these pieces. Want to compare Stokowski's orchestration to Bach's original? We have several organ editions available. Ever wondered exactly what they're singing at the end of Ride of the Valkyries? Our extensive opera libretti collection reveals it to be, "Hojotoho!" And how many symphonies did Shostakovich write? A quick look through our composer catalogue collection tells us that he wrote a whopping 15 symphonies. And far from classical music being "just for old people who sit in chairs all the time", our huge collection of composer biographies and music history books reveals some information which would surprise even the most disinterested of teenagers. Would it shock them to know that Sondheim's libretto for West Side Story was actually censored for including a certain four-letter word? Or that, far from being a soppy love story, Carmen's lover eventually ends up killing her? All this and more can be discovered in Westminster Music Library and it is our hope that our resources will be a first port of call for anyone, local or otherwise, who is involved in this year's Ten Pieces Secondary.
Anyone interested in knowing more about Ten Pieces can visit the BBC's website at http://www.bbc.co.uk/programmes/articles/3l2p7df6Yhg8dRp20Hp85VG/ten-pieces-secondary, or if you'd like to know how we can assist your Ten Pieces project, visit or contact us at the Music Library.
Jon Frank, Westminster Music Library