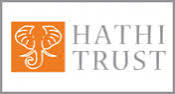 The Hathi Trust's pages can be a great way of finding some more obscure Christmas musical fare. How about Liza Lehmann's No candle was there or the festive children's operetta The trial of John and Jane?
It struck me having a quick search for Christmas music on their site, that there is a huge wealth of musical material written by (largely forgotten) women composers. One example is A Christmas Hymn, words by Bishop Heber and music by the Honourable Eleanor Bagot; or, how about Catherine Snyder's Christmas Night?
Also on the Hathi Trust site is Christmas songs and Easter carols by Phillips Brooks, which includes his lyrics for the popular carol, O little town of Bethlehem. Can you spot the difference?