World Music Day in Manchester Central Library – 21st June 2017
World Music Day, or as is it known in France, Fête de la Musique originated in France in 1982. It was the brainchild of Jack Lang, the Minister of Culture and composer Maurice Fleuret, who he appointed as director of Music and Dance in 1981. The slogan for this annual festival which takes place on 21st June, the day of the summer solstice which is the shortest night in the year, "Faites de la musique" (Make Music) is a play on the French words "Fetes de la Musique". With the emphasis on all musicians, both amateur and professional, to bring their music to the streets for free performances, hence the slogan "Make Music", the concept of "the music everywhere, the concert nowhere" was born.
35 years later, the festival is celebrated in over 120 countries and over 700 cities. Manchester Central Library is home to one of the largest music libraries in the UK, and we thought it was about time we placed our "Fete de la Musique" on the map! We put the call out to our library visitors inviting musicians of all levels and skill to join us for the day and they did not disappoint!
In preparation for the day, one of the pianos was brought down from the Henry Watson Music Library to take pride of place near the library shop, with a sign saying "Please play me". One by one performers trickled in to take a seat, filling the space with beautiful Music.
Starting at 1pm we kicked off our festival with motorbike enthusiasts "Legs of Man" who livened up the archives with their lively renditions of rhythm and blues classics such as Route 66.
Up next, slowing the pace down a notch, were The Carnelian Saxophone Quartet, who gave a mesmerizing performance of popular classical pieces.
Oli Griffiths, a student at the British and Irish Modern Music Institute (BIMM), rocked it out with electric bass and vocals.
Calt Lincoln, another student from BIMM, gave a beautiful acoustic performance.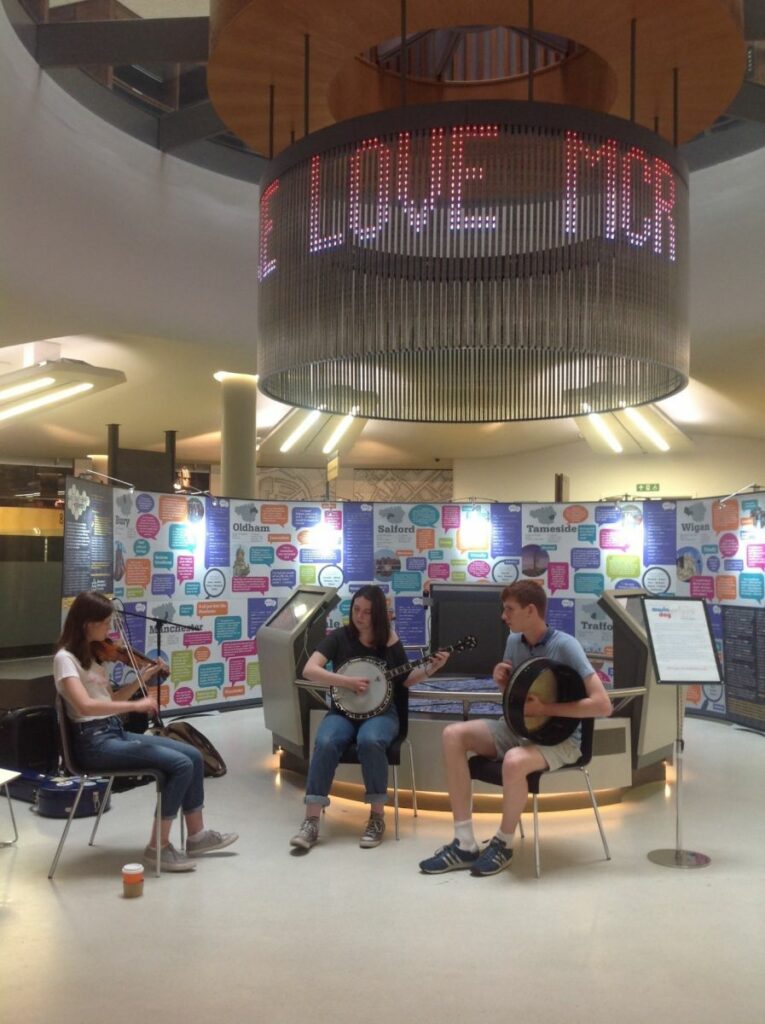 Bringing an Irish flavour to the day were young students Fionnuala, Maeve and Declan on violin, banjo and bodhran.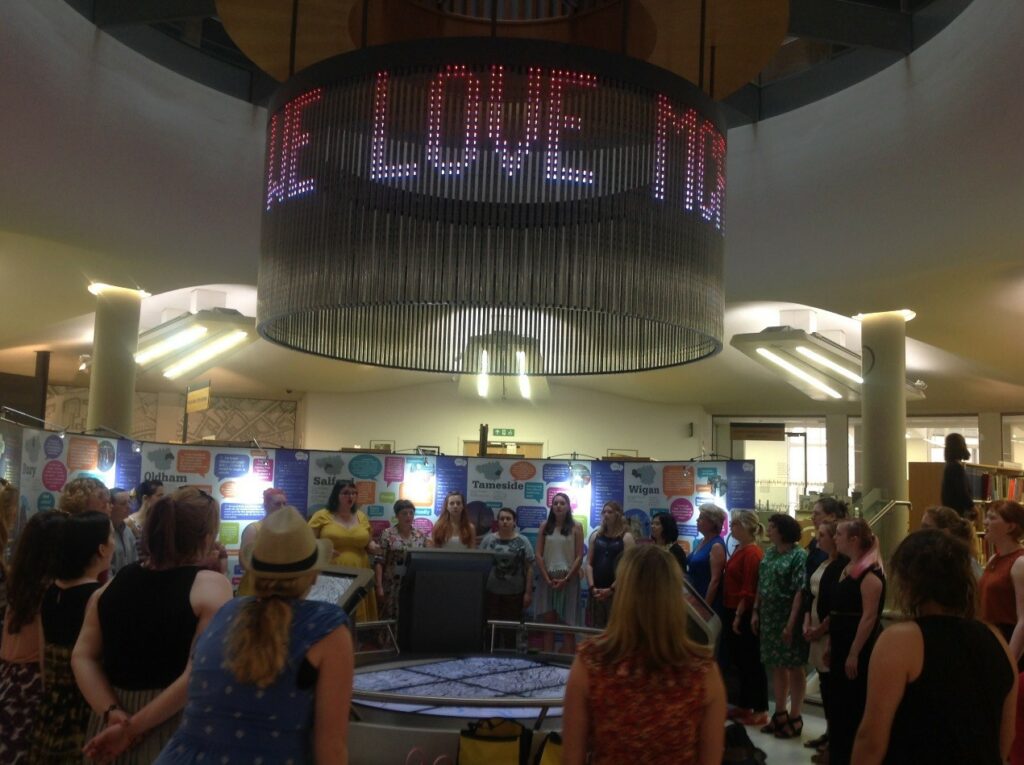 In the spirit of World Music Day, She Choir brought their open rehearsal to Manchester Central Library and were joined by 40+ enthusiastic singers, delivering a brilliant performance of "Rolling in the Deep".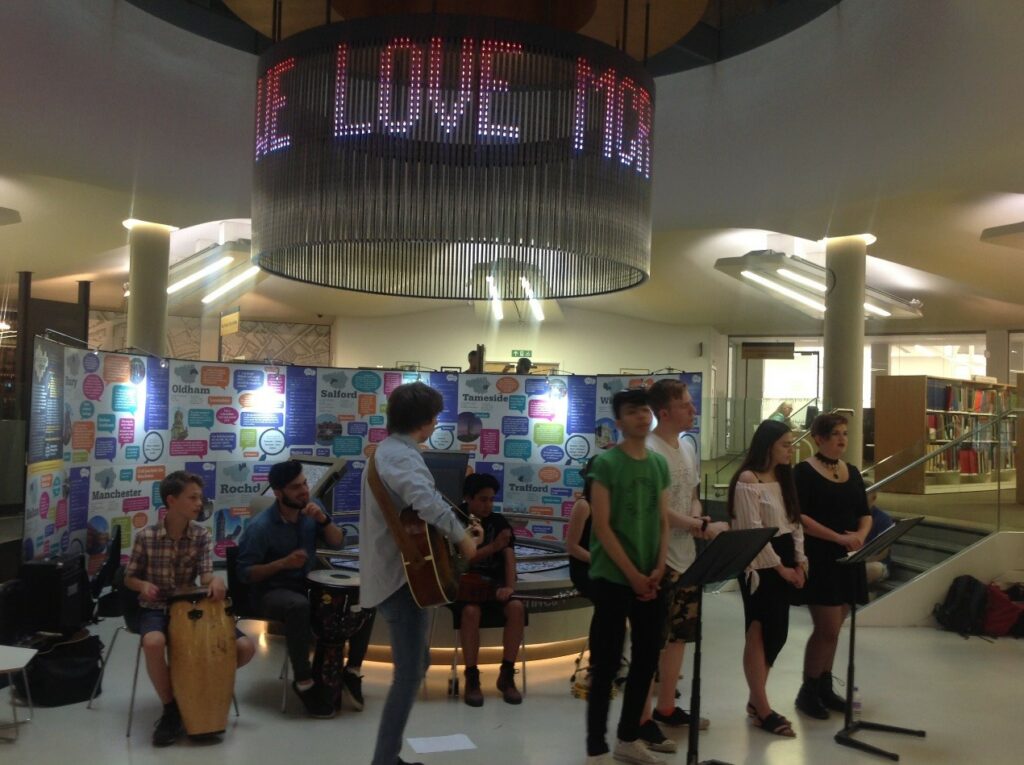 Brighter Sound brought their young people's song writing group Sing City, who performed a few songs, including their latest composition, which was written for a project celebrating the anniversary of the Manchester Metrolink tram network.
Closing the day were contemporary gospel and soul trio Bishop, who performed tracks from their future album.
What a fantastic wealth of talent in Manchester! The piano placed next to the library shop, cafe and lifts area was so popular we decided to make this space its permanent home. Now visitors can enjoy browsing the shop or relax over a coffee whilst listening to impromptu piano recitals given by visitors of all ages and nationalities who want to share their love of music. In fact one of the mums visiting with her autistic child commented that it was very relaxing for him and made him feel settled.
We can't wait until next year, let's hope it can be even better! Thank you to all who gave their time and shared their music and talent.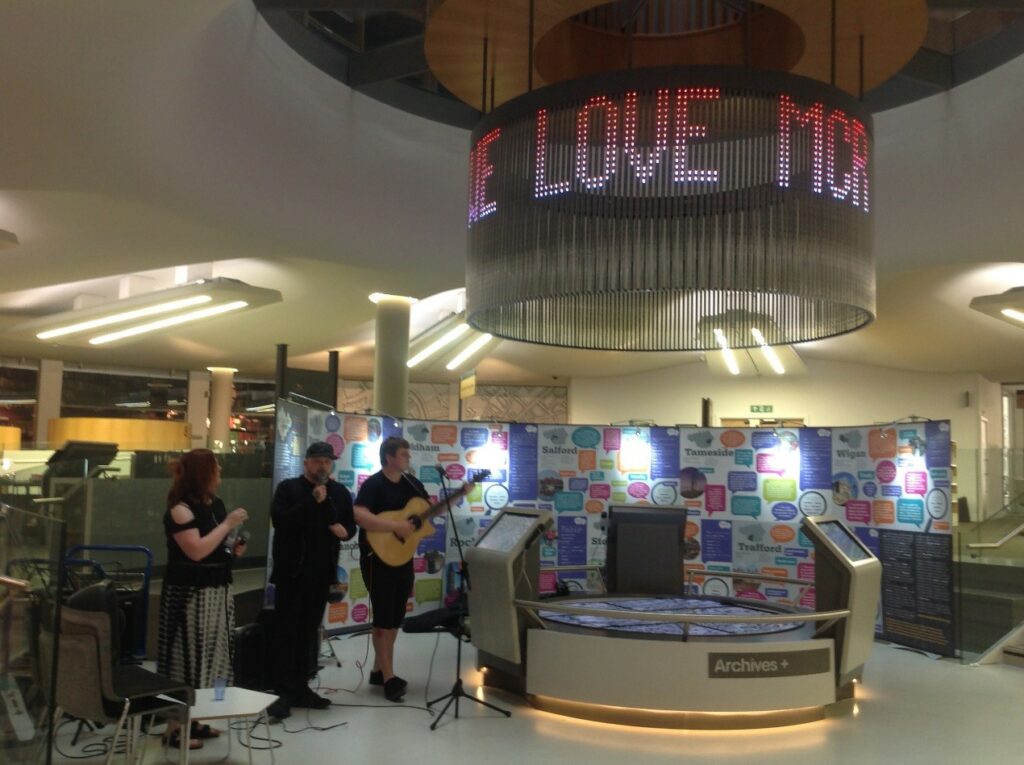 Siobhan O'Connor, Ros Edwards, Manchester Central Library