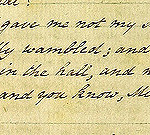 You may recall the "Free our History" campaign back in 2015 which sought to lobby the UK government into bringing unpublished text based works back to the normal term of lifetime plus 70 years.
Unfortunately that wasn't successful in persuading the government, which means the 2039 rule is still proving costly for libraries and institutions.
LACA (with which IAML (UK& Irl) is affiliated), supported by CILIP, has launched a survey to try to build up an evidence base to prove to the UK Government that the costs outweigh the risks. I'm sure many of our libraries hold materials that are subject to the 2039 rule, so I'd be grateful if as many of you as possible could spare a few minutes to complete this short survey (or direct it to an appropriate colleague in your organization) in order that we can quantify the impact of this anomalous duration of copyright.
The deadline for responses is 1 July.
Claire Kidwell
Chair, IAML (UK & Irl) Trade and Copyright Committee
For a fascinating glimpse into the issues surrounding the 2039 rule, see this blog post from the Derbyshire Record Office.
MJ