Towards the beginning of 2020, I was invited to assist a joint Royal College of Music-University of Southampton research team in their ongoing AHRC-funded project, "Music, Home and Heritage". The project's overarching aim is to explore "how listening to and performing music affected the construction of home and family life in Georgian Britain." While this involved some in-depth case studies in particular historic houses – for example, Erddig and Boughton House – the part of the project which I was to be working on encompassed a wide-reaching survey of music collections in British historic houses, from all time periods.
Having been started in 2017, the survey was well underway by the time I joined the team. My brief was to join Dr Katrina Faulds (University of Southampton) in gathering information on music collections in historic houses and summarising the contents of these collections into a handful of descriptive paragraphs. The vehicle for communicating the results of our survey was Cecilia, a database which IAML blog readers will doubtless be familiar with. Cecilia's focus on summary descriptions of collections, as opposed to item-level listings, suited to project's aims perfectly.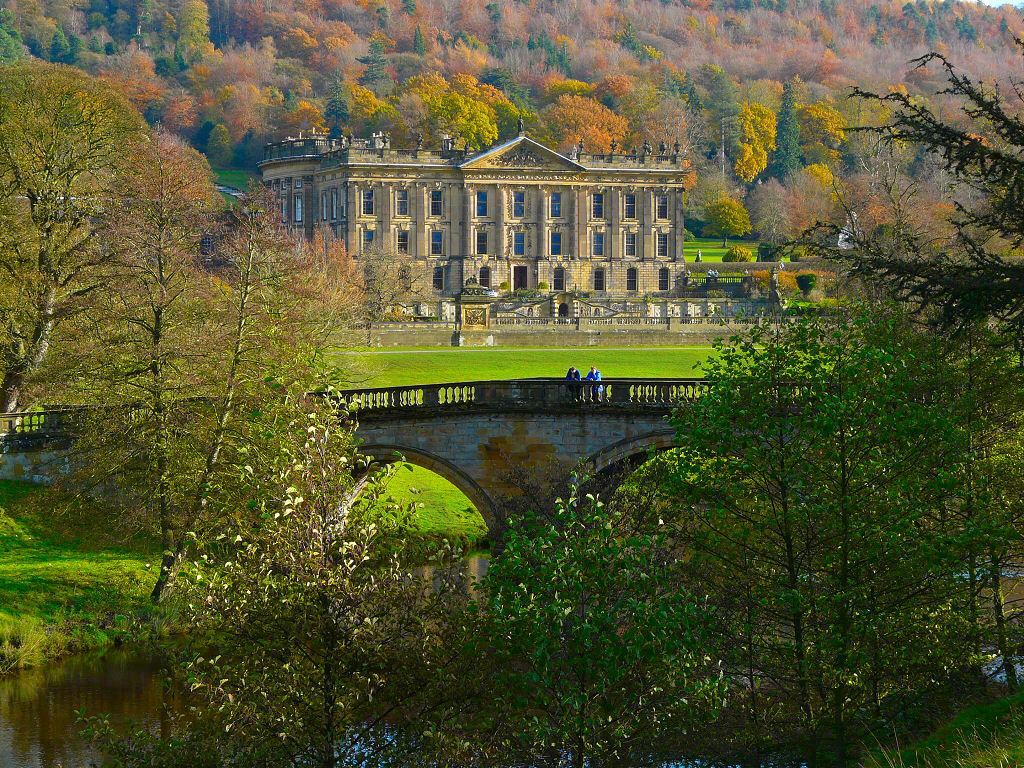 What, then, is a "historic house"? While no one would dispute that a grand country estate such as Chatsworth qualifies as a historic house, our survey also included townhouses such as Apsley House and Carlyle's House; cottages such as T. E. Lawrence's Clouds Hill; and even rather modern properties such as The Homewood and 2 Willow Road. Broadening the scope of the survey in this way not only allowed for comparisons to be made between lavish and more modest properties, but also for tracing the changing roles of domestic music-making through the centuries. While we found plenty of evidence of music functioning as polite drawing room entertainment in high society, the other stories of music-making which were unearthed as a result of this project are as varied as the properties themselves: from Handel himself playing the organ at Adlington Hall, to eccentric bachelors tinkering with gramophones at Erddig; from the staging of operettas in the Music Room at Gunby Hall, to the diligent recorder playing of George Bernard Shaw's secretary; from Samuel Hellier's insistence that his servants join his orchestra, to a mother's grief that her only son, killed in battle, can no longer perform with her. The survey of historic houses has lifted the lid on the many functions of music in the home and provided much stimulus for further research into this field.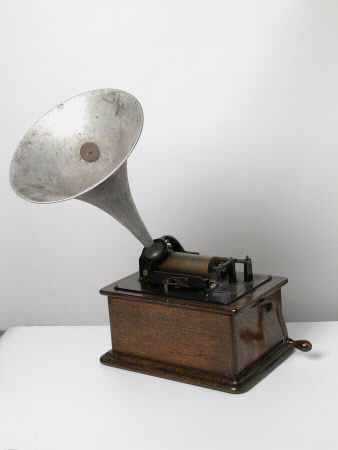 Information about a property's collections came from many sources. In-person site visits are, of course, often very fruitful, and I myself was delighted to have the opportunity to view the previously-unexamined sheet music collection of Alec Cobbe at Hatchlands Park. Sadly, the unexpected coronavirus-related lockdown not only suspended the possibility of further site visits, but also led to many of the on-site staff at these properties being furloughed, meaning some enquiries about music collections could not be answered. Fortunately, for properties in public ownership, such as those belonging to the National Trust or English Heritage, these organisations have something of an obligation to make the publicly-owned collections accessible, and already have some online databases open to all. Taking the National Trust as an example, many of the Trust's books are now catalogued on Library Hub Discover (formerly COPAC), while a separate database aims to list all items in the National Trust, from pipe organs down to manuscript fragments. If you have not yet visited National Trust Collections, I strongly recommend browsing its over one million items – there will certainly be something of interest to everyone. Using resources such as these, as well as in-house documents kindly provided by staff at the National Trust and English Heritage, we were able to write most of our summary descriptions remotely.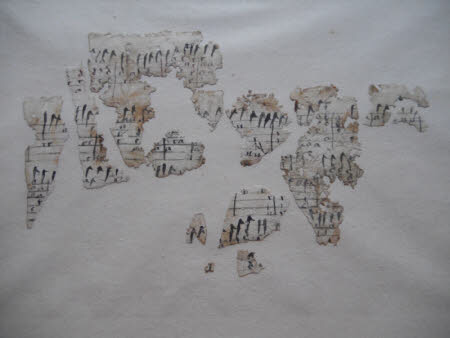 For privately-owned or council-run houses, with no obligation to make known any of their contents, the gathering of data was naturally more difficult, as our final tally of properties surveyed reveals: 194 publicly-owned properties, versus just 19 private or council-run properties. While for some, complete (Boughton House) or partial (Longleat) catalogues are available, others, such as Powderham Castle, had not made details of music collections available prior to this project. For the vast majority of these properties, we relied on the self-reporting of on-the-ground staff, using a mixture of questionnaires and direct enquiries, with mixed success. In other instances we were assisted by local experts with first-hand experience of the music collections, with special thanks owed to Jane Troughton for her help with Yorkshire houses, and Roger Williams for writing all of National Trust for Scotland's entries.
While we are thrilled that the project has brought to light and made available on Cecilia details of some previously neglected musical treasures – the oldest surviving English grand piano, for example, or a unique Mendelssohn source – perhaps even more valuable is how having this wealth of information about Britain's historic house music collections brought together into one database allows for direct comparison and the emergence of patterns. Some of Cecilia's analytical tools return interesting statistics about these properties, such as Broadwood being by far the most well-represented piano manufacturer, or Handel being the most frequently-named composer. Other patterns are simply spotted anecdotally. One which stuck out to me, working through so many of these Cecilia entries, was just how popular Edward Light's instrument the "harp-lute" was, never having heard of it myself prior to this project, but finding it to be in at least five (and probably more) of the houses surveyed.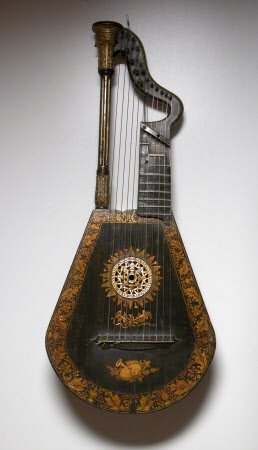 While printed and manuscript music, books about music and instruments were obvious candidates for inclusion in the Cecilia records, we made special effort to include other, less obvious "musical items". These included paintings with musical subjects; practical music-making items such as music stands or metronomes; ephemeral items such as concert programmes; musical boxes and automatons; and even architectural features such as music rooms. All of the above were considered potential sources of information about a house's musical history, and in some circumstances offered more evidence than the sheet music or instruments: Seaton Delaval Hall, for example, contains no sheet music or instruments, yet does hold two portraits of former residents of the house partaking in musical activities. In fact, the survey brought to light many of these "other" musical objects, all inviting questions about how they came to be there or what musical activities were taking place at the house. These include Arthur Sullivan's eyeglass; a lock of Mozart's hair; a musical notation board for the blind; rejected Robert Adam designs for an organ; a mechanical device for turning over the pages of music; printing plates for a Haydn first edition; and a Handel autograph letter.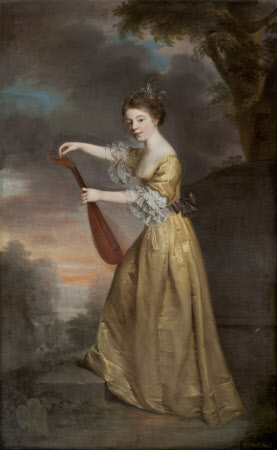 We are proud to have created what we believe is a unique resource in the study of historic house music collections. While some of the data presented on Cecilia was available elsewhere, the work undertaken over the last few years has processed this data into a far more "digestible" format. The numerous sources consulted in the creation of these Cecilia records included public databases, internal spreadsheets and handlists, union catalogues, instrument and art directories, and journal articles. By bringing together information from all these sources into one resource, the Cecilia records serve either as a starting point for those who wish to perform in-depth study on a single house's collections, or a platform on which comparisons may be made across any number of similar properties.
With over 200 properties surveyed, the visibility of historic house collections on Cecilia has been hugely improved, although many more could be added: I was stunned to learn that there are still over 1,500 privately-owned country house estates in Britain. Who knows what musical treasures lie behind these closed doors? It is certainly our hope that this project may provide stimuli for further research into Britain's domestic musical heritage.
Jonathan Frank, Assistant Librarian, Royal College of Music