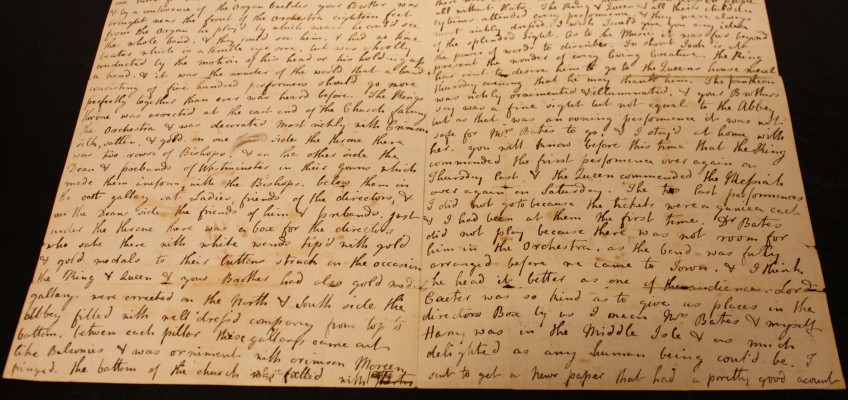 The Gerald Coke Handel Collection, housed in the Foundling Museum, has acquired a letter describing the first Handel Commemoration Concerts.
Taking place at Westminster Abbey in 1784, this series of concerts commemorated the twenty-fifth anniversary of the composer's death. The acquired letter is written by Mrs Henry Bates, sister of Joah Bates who led the Commemoration Concerts. She writes to her sister-in-law describing both the performances and the birth of her brother's son, events that appear to have happened concurrently! Thankfully, Mrs Bates describes a painless delivery:
I am very happy to have the pleasure of informing you that Mrs Bates was safely delivered of a fine boy yesterday morning at six o'clock, she had a remarkable good labour.. Dr Orme was not in the house ten minutes before the Child was born, and both Mrs Bates & her little son are as well as we can possibly expect.
The description she gives of the Commemoration Concerts tells us much about the continued appreciation for Handel from the country's gentry. She writes:
The Abbey was the finest sight that ever was beheld in any Country, the Orchestra of Joah's contriving was the most beautiful thing that ever was seen… it was the wonder of the world that a band consisting of five hundred performers shoul'd go more perfectly together than ever was heard before… I fancy there were between three & four thousan'd well dressed people all without Hats. The King & Queen & all their children by turns attended every performance… As to the music it was far beyond the powers of words to describe..
Organised by John Montagu, 4th Earl of Sandwich, and the Concerts of Antient Music, the Commemoration consisted of a series of concerts in which Handel's works were lavishly performed by singers and instrumentalists. Visitors to Westminster Abbey today can see a small tablet above Handel's monument that references the event. The Commemoration Concerts are widely credited with establishing the fashion for elaborate renditions of Handel's choral works throughout the nineteenth and early twentieth-century.
For more information about the Foundling Museum, visit their website at http://foundlingmuseum.org.uk/