The Royal College of Music Library is delighted to announce the discovery of a previously unknown composition by Samuel Coleridge-Taylor: Nourmahal's song. This short, unpublished, song by Samuel Coleridge-Taylor has long been assumed to be related to his two-movement piano work, Nourmahal's song and dance, op. 41. Although the names are similar, comparison of the music reveals that they are in fact unrelated compositions. In the process of cataloguing and processing the manuscript, Assistant Librarian Jonathan Frank realised that the present song does not appear in any of the composer's own work lists, or any compiled by later biographers – therefore being previously unknown to modern scholarship.
Described as a "scena", this dramatic song was intended by Coleridge-Taylor to have orchestral accompaniment, as evidenced by his subtitle on page 1 of the manuscript. The original orchestration, if one was ever written, has not survived. In 1936, an orchestration by Louis Kirkby Lunn Pearson was completed with the approval of Coleridge-Taylor's son, Hiawatha. This orchestration was passed on to none other than Sir Henry Wood, for consideration for performance in Wood's upcoming concert conducting the Worthing Symphony Orchestra. Despite being advertised, the performance of Nourmahal's song never took place; in the end, contralto Enid Cruickshank sang songs by Tchaikovsky and Bantock.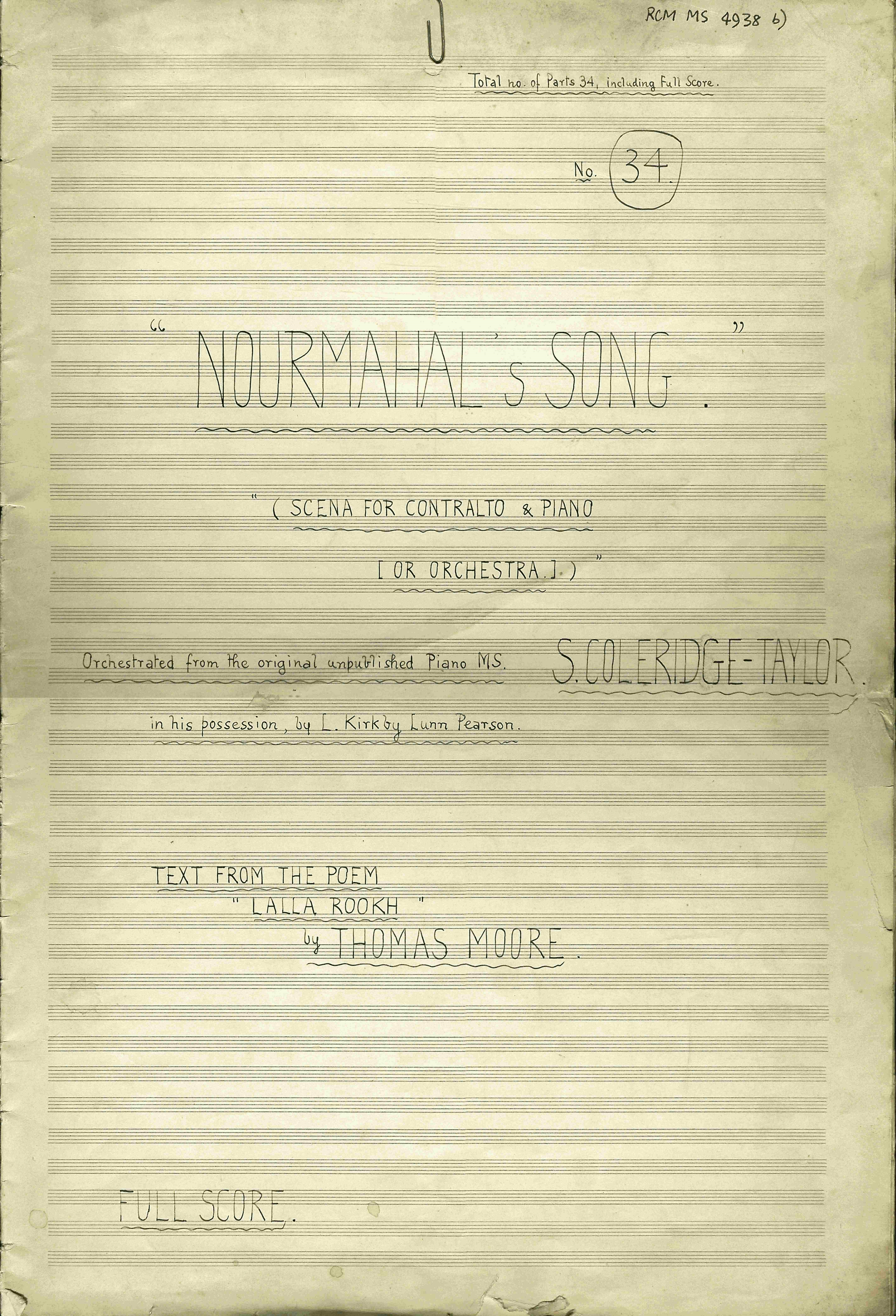 Nourmahal's song is currently on display at the RCM Library, and you can read more about this exciting discovery on the Royal College of Music's website. A detailed write-up will be published in Fontes Artis Musicae (volume 69, issue 2, April-June 2022) in the coming weeks. In the meantime, the manuscripts have been digitised and are available to view here: https://archive.org/details/RCM-MS-4938.
Jonathan Frank
(Royal College of Music Library)