Margaret Jones, blog editor for IAML (UK & Irl), asked me some time ago to write a little about the role of IAML Historian, a post to which I was appointed early in 2020. Of course I'm happy to do so. I should point out straightaway, just to avoid any confusion, that this is a role within "big" IAML, i.e. the international body, rather than a UK & Ireland position.
It's quite a new role within the Association; Roger Flury was the first appointee, and since 2014 has carried out his duties admirably, notably in an essay on IAML's history between 2001 and 2016 that you can find on the IAML history page.
Roger was, of course, an excellent choice, since he not only has a long "institutional memory" of the organisation, being its President from 2010-2013 (succeeding Martie Severt and followed by Barbara Dobbs Mackenzie) and fulfilling other roles before that, but he is an established and talented writer who knows how to weave a historical narrative that makes you want to read on. So it is hardly surprising that, when he retired from the Turnbull Library at the National Library of New Zealand in 2014, IAML quickly found this new historian role for him. You can read more about Roger's life and career here (somehow I feel I should be footnoting this blogpost in some way. Let's move on…)
There is a job description for the IAML Historian, as follows:
To write periodic essays that continue the story of IAML as published in Fontes artis musicae 48 no. 1 (2001) upon the international body's 50th anniversary. Since Roger has brought the story up to 2016, my first job will be to write something covering the period 2016-2021 (the 70th anniversary).
To provide annual updates to the IAML Chronology published on the IAML website
To record oral histories and written interviews with current or retired members.
The Music Library Association has already made some progress in this third area, and has an Oral History Committee, about which you can read more on the Music Library Association site.
My experience, albeit limited, of this sort of thing when I was working in the USA was that it's very difficult (a) to get people to agree to be recorded (along the lines of "oh, I really couldn't, my career isn't very interesting"); and (b) to find transcribers of these interviews afterwards, which is a lot of work. However, it surely is worth the effort, and we have several members still living who have contributed not only to our own national branch but also to the international body. There have been 4 UK Presidents of IAML (Alec Hyatt King, John Davies, Brian Redfern and Pamela Thompson. Spot the odd one out…). For the record, and because historians are probably supposed to like lists, the USA has also provided 4 Presidents, France 2 (though one of them, Vladimir Fedorov, served twice), the Netherlands 2, and Sweden 2 (though when President-Elect Pia Shekhter takes over in 2020, that will make 3), while Canada, Germany, Italy and New Zealand join current President Stanislaw Hrabia of Poland in providing one each.
The post of Historian is a 4-year one, with the possibility of renewal although in four years I'll probably be contemplating, no doubt to general relief, my retirement from the music library profession. We'll see. One thing I'm very much looking forward to at the moment (…no, it's not a cruise…), and yet another plan that has had to be postponed due to COVID19, is visiting the IAML Archives in Sweden. Over the years I've requested help from the Archives and it has always been forthcoming, and efficiently too.  So I'm actually going to finish this blog post with something from the Archive — a hotel booking notification to French representative Vladimir Fedorov/Fedoroff, who was attending the 1949 World Congress of Music Libraries at the Accademia Luigi Cherubini in Florence. In itself the document doesn't have particular value; but it's a part of our past, and at least we can tonight rest safely in our beds in the knowledge that Mr Fedorov was probably able to do likewise in his. The Hotel Bonciani in Florence still exists, by the way, and is clearly up to IAML's usual standard — you can find lots of images via Google, but no copyright-free ones so I haven't included a photo here.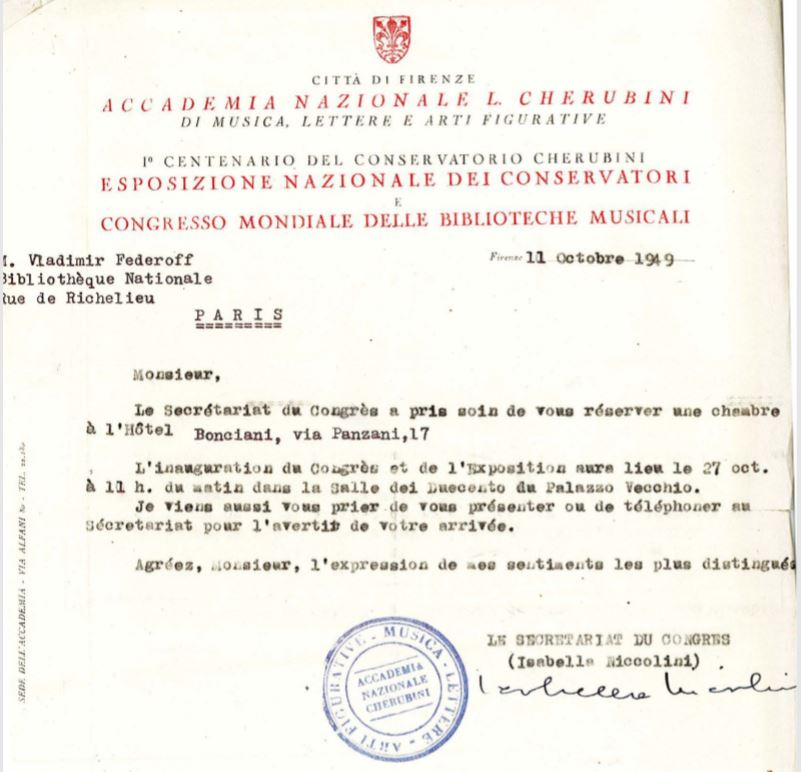 Incidentally, for those who like to know about such things, the IAML Historian position doesn't seem to be associated with any Committee within the organisation, so is presumably directly responsible to the IAML Board.
John Wagstaff
Cambridge