RISM (Répertoire International des Sources Musicales)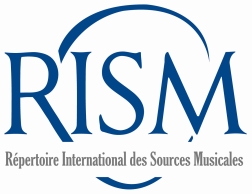 RISM is an international non-profit organisation that aims to document all extant sources of notated music, libretti and treatises located around the world in libraries, archives, religious institutions and private collections. The intent of documenting existence is to prevent loss and open up access to scholars.
RISM is published in three series: Series A organized by composer, Series B organized by topic, and Series C an index of music libraries. Much of the data in these series is freely available online at opac.rism.info.
Independently funded national offices based in various institutions around the world contribute information to the international project. RISM is sponsored under the auspices of two international professional associations: IAML and IMS (International Musicological Society).
The RISM UK office is based at Royal Holloway University of London.
The international RISM office is based in Frankfurt am Main, Germany.