The C.B. Oldman Prize Committee has pleasure in announcing the winner of the 2019 award: 
Lawson, C. and Stowell, R. (eds.). The Cambridge encyclopaedia of historical performance in music. (Cambridge : Cambridge University Press, 2018). ISBN 9781107108080.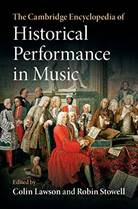 Congratulations to the editors – Colin Lawson and Robin Stowell, the many contributors, and to the publisher, Cambridge University Press.
The C.B. Oldman prize is an annual award of £300 for an outstanding work of music bibliography, music reference or music librarianship by an author resident in the United Kingdom or Republic of Ireland.
Richard L. Jones 
Convenor, C.B. Oldman Prize Committee (2019 Prize) 
(Music Librarian, Barbican Music Library)