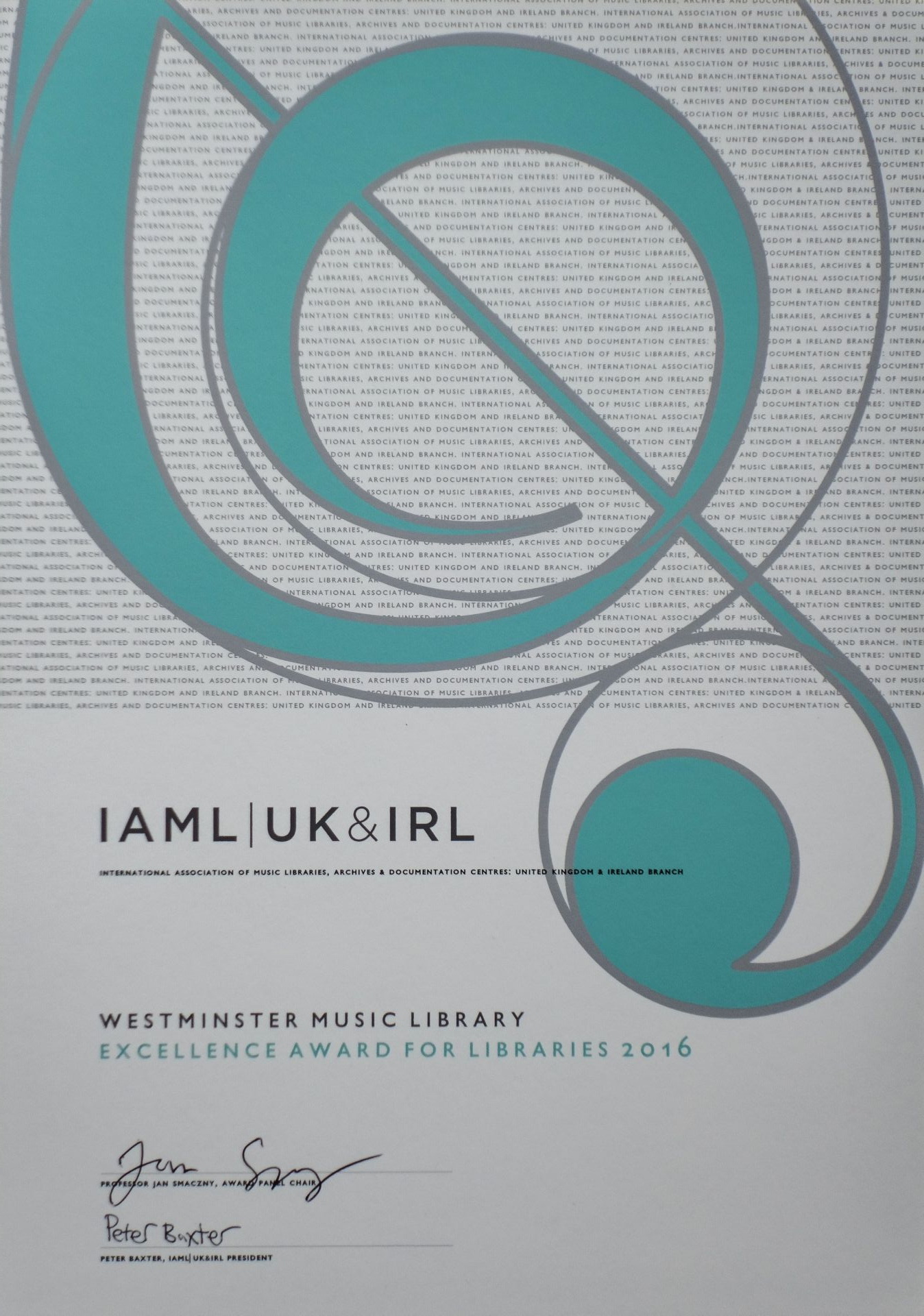 On Saturday the 2nd of April, in a swish hotel on the outskirts of Manchester's vibrant City Centre during this years' ASW, we paused while the red carpet was rolled out and the assembled delegates were transformed with sparkly frocks, frightening 'up dos' and slick tuxedos… well maybe not quite that sparkly or frightening, but The BAFTAs, The Oscars, The Grammys, none of them could hold a candle to The IAML (UK & Irl) Excellence in Music Libraries Awards 2016.  An expectant throng of IAML delegates were assembled to celebrate the fantastic achievements of colleagues representing music libraries – of all shapes and sizes – across the UK and Ireland. No matter what their sector or type, be they large or small, new or well established, they all impressed the judging panel, here's how and why….
Some aspire to greatness, and others achieve it. In the music library world there are amazing staff that just keep getting better and better at providing all kinds of exciting services for their customers. Whether those customers are tiny tots, learned professors, musicians or non-musicians, young or old makes no difference, they will ensure there's something for everyone in their library to study or simply enjoy.  Some have forged successful partnerships, devised innovative events programmes or organised fascinating exhibitions, others have achieved new levels of co-operation with schools and universities or are recognised for their special collections or outreach programmes. One thing's for sure, all these award winning libraries are impressive, and demonstrate the dedication and passion of library staff determined to provide their customers with the best music library service possible.
The other thing about the IAML (UK & Irl) "Biennale" is it gives everyone an opportunity to adopt and adapt some of the work that these Award winners are so skilled at putting into action. We know that imitation is the sincerest form of flattery, and following someone's good work and good practice is surely one of the most flattering pats on the back of all.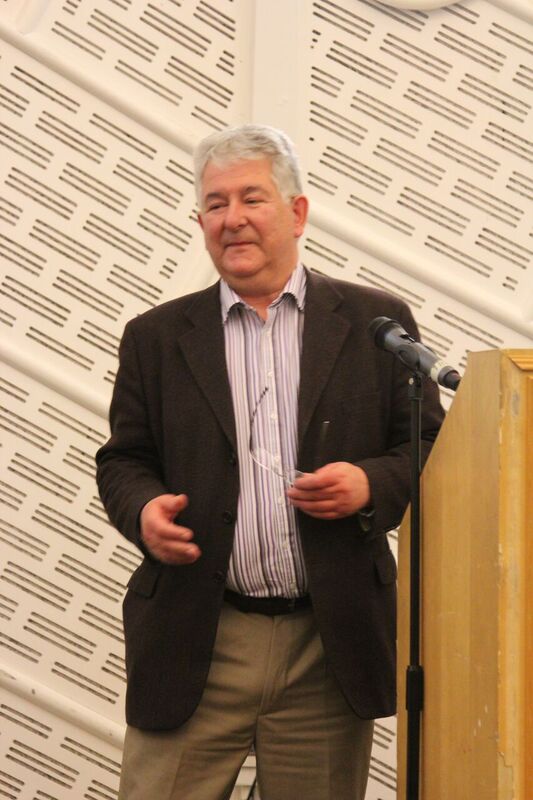 The nominations for this year's Awards were judged by a panel of experts from both the music and library worlds, chaired by Jan Smaczny, Professor Emeritus of Music, Queen's University, and Belfast.
Music libraries play a key role in supporting the study, performance and enjoyment of music and underpin the vibrant diverse musical life and heritage in the UK and Ireland and, as Professor Smaczny has said," the very musical infrastructure of the United Kingdom and Ireland depends fundamentally on the work of music librarians".
And who are we to argue with The Good Prof?
Finally, I must "blow the trumpet" for Westminster Music Library as we were indeed honoured with our fourth Excellence Award, which I was both delighted and proud to accept on behalf of my wonderful team.  Here's why we were selected:
The service was particularly commended for its proactive working in seeking out new projects and partnerships, which engage with both users and potential users. The expert staffing levels and training offered to both staff and the public were also commended, as was the excellent stock and publicising of the service.  The panel felt that the library is a 'national resource' and a benchmark for 'excellence'.
Thank you IAML, we are absolutely thrilled, and it is nice to wear a frock occasionally….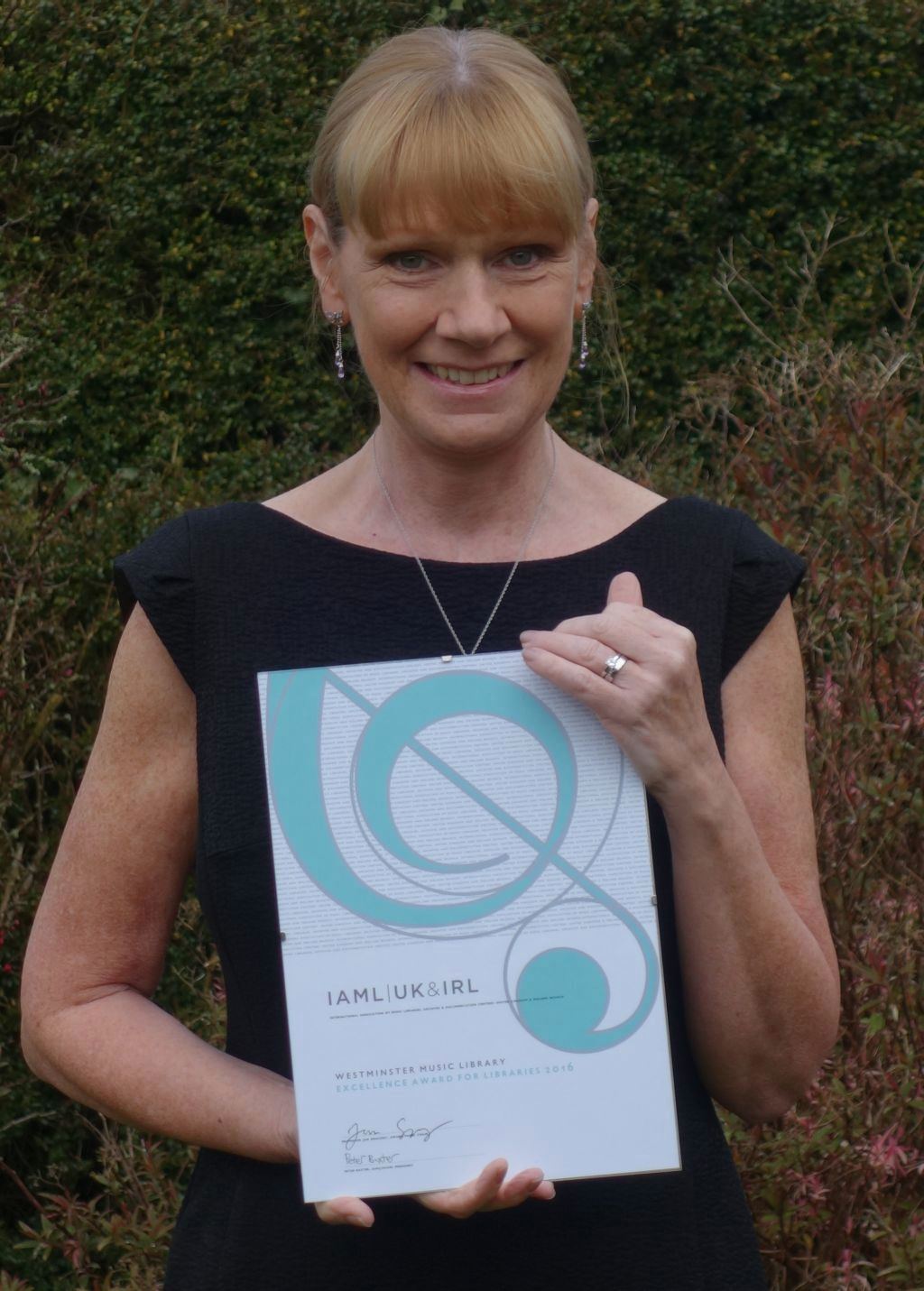 Ruth Walters, Westminster Music Library
Further to Ruth's post…as well as WML, Ruth also received a personal achievement award. Her citation read:
The judging panel recognised that Ruth continues to bring energy, enthusiasm, creativity and professionalism to both Westminster Music Library and more widely to IAML (UK & Irl).  Under her management WML – one of the UK's leading public music libraries – continues to take on new challenges in creative partnership working, event organising, and delivering an excellent music library service to its members.  So much of what Ruth – and WML – does is Excellent and a benchmark for others to be inspired by and follow.  One recent project of note is a partnership with the Armed Forces in which Ruth secured funding from the Ministry of Defence to set up a choir 'Joint Force Singers' with Westminster's Armed Forces.  Ruth's ongoing events programmes, community partnerships and fundraising have raised the profile of a specialist music service in the community, introducing new customers – children and adults – to the world of music.
Many congratulations both to Ruth and to Westminster Music Library.
MJ