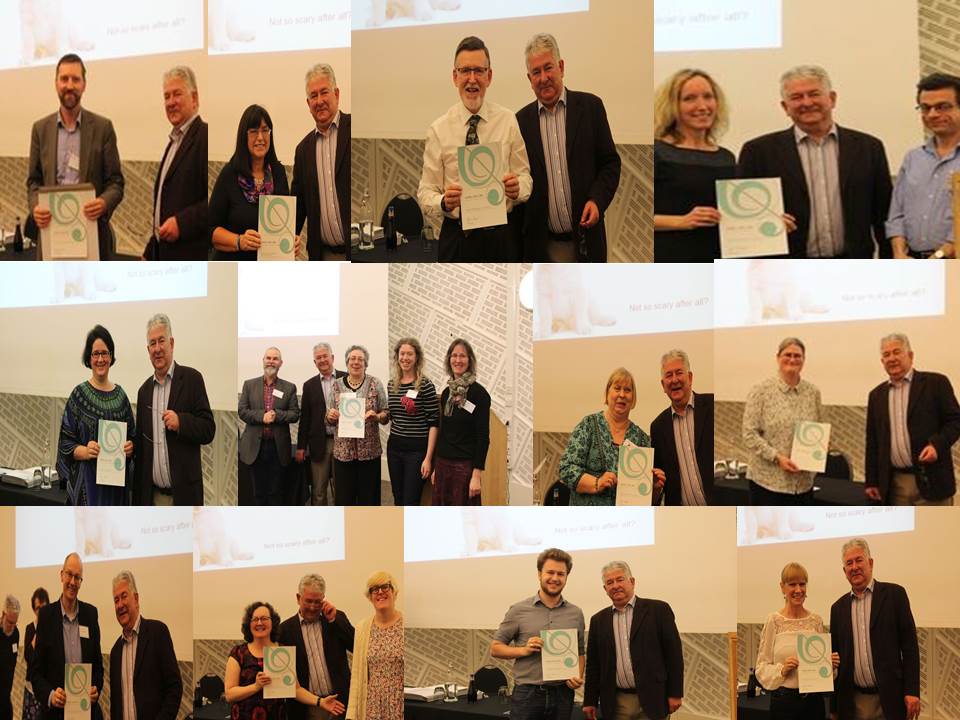 IAML (UK & Irl) celebrated both institutional and individual Excellence at its recent Excellence Awards ceremony held at Chancellor's Hotel, Manchester on Saturday 2nd April 2016.
The Excellence Awards are presented every two years and acknowledge activity in music libraries which demonstrates sustained good work and good practice with the potential to be adopted and adapted by others. The Awards also recognise outstanding personal achievement by individuals. Music collections from any sector in the UK and Ireland can be nominated for the Award, no matter what their sector, size or type.
The nominations for this year's Awards were judged by a panel of experts from both the music and library worlds, chaired by Jan Smaczny, Professor Emeritus of Music Queen's University, Belfast.
Music libraries play a key role in supporting the study, performance and enjoyment of music and underpin the vibrant diverse musical life and heritage in the UK and Ireland and, as Prof Smaczny has said," the very musical infrastructure of the United Kingdom and Ireland depends fundamentally on the work of music librarians".
This year saw the following 13 institutional libraries and 3 individuals receive an Excellence Award:
Barbican Music Library (Top left – Richard Jones with Professor Jan Smaczny)
Bournemouth Music Library
Gerald Coke Handel Collection (Top right – Katharine Hogg, Prof Jan Smaczny, Colin Coleman)
Henry Watson Music Library (Middle, 2nd from right – Ros Edwards, Prof Jan Smaczny )
Hertfordshire Libraries – Performing Arts (Top, 2nd from left – Maja Czerkas, Prof Jan Smaczny)
Irish Traditional Music Archive
Library of Trinity College Dublin (Bottom left – Roy Stanley, Prof Jan Smaczny)
Oxford Music Library (Middle left – Isabelle Kleinknecht, Prof Jan Smaczny)
Royal Northern College of Music Library (Middle, 2nd from left – Geoff Thomason, Prof Jan Smaczny, Anna Wright, Sarah d'Ardenne, Julia Knight)
Surrey Performing Arts Library (Top, 2nd from right – Peter Baxter, Prof Jan Smaczny)
Westminster Music Library (Bottom right – Ruth Walters, Prof Jan Smaczny). Ruth also received a personal achievement award.
Whittaker Library at the Royal Conservatoire of Scotland (Bottom, 2nd from left – Karen McAulay, Prof Jan Smaczny, Catherine Small)
Yorkshire Music Library (Bottom, 2nd from right – Elliot Austin, Prof Jan Smaczny)
Almut Boehme (Middle right)
Tanith Hicks
Ruth Walters (see Westminster Music Library)
Many congratulations to all award winners. There will be more on the winners in later posts including full citations, but for now many congratulations and thanks for all your hard work in making music libraries the great places they are.