At the ASW on Friday 7th April, a new and revised version of Encore, the go-to site for orchestral or vocal sets in the UK, was premiered; the fruit of several months work by a number of people.
There are lots of advantages to the new Encore-21. Most importantly, the software has been updated, so enabling easier searching. During the updating process existing data was converted to MARC21 and cleaned-up, with many incorrect field usages removed, and numerous duplicate records amalgamated. The work on Encore has not only future-proofed the data, the new software will also allow a team of editors to maintain it, and enable registered libraries to correct and update their own records, so leading to smoother and quicker updating.
Encore-21 has a bright new look, whilst still retaining the familiarity of the original Encore. Searching can be done either via a basic simple search, or using the more advanced version. It's still possible to search either in just vocal or orchestral sets, should you wish to do so by using the drop-down menu to the right of the search page. There's also a helpful hints section, which does exactly what it says, as well as providing some basic advice on where else to search for sets, and some tips on what not to do!
All of which means that it should be easier for anyone to find the music that they need for that vital performance. 76 copies of Seventy-Six Trombones, anyone?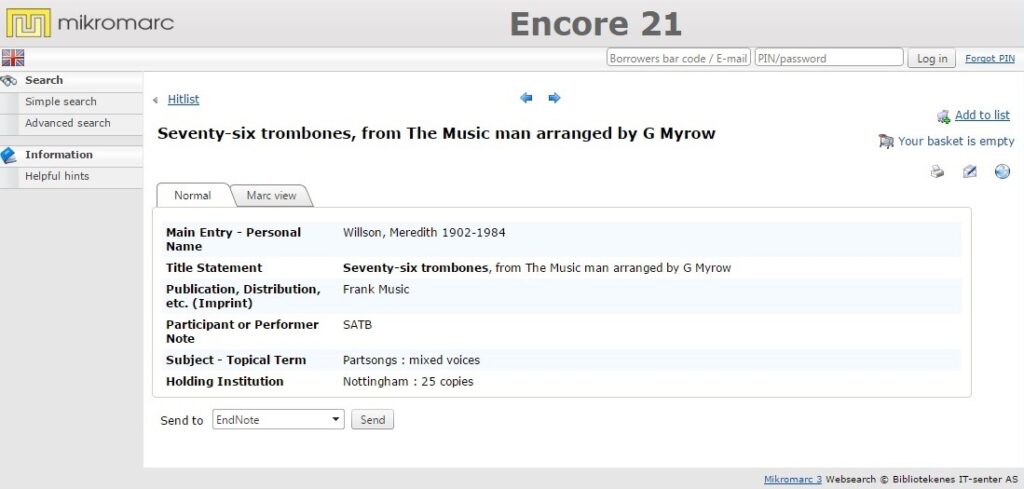 Malcolm Jones