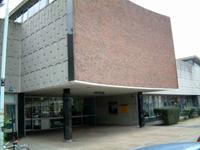 Good news from CYM (Community and Youth Music) Library based in Hornsey Library in Haringey.  They have been very fortunate recently to have received a grant to purchase contemporary music for our stock.  This has been made possible by the Radcliffe Trust.  It should all now be on Encore21, but this was a chance to spread the good news.  They are now even more ready than usual to help with requests for music.
Here is a list of what has recently been acquired.
Gjeilo: Sunrise Mass – vocal score & orchestral parts
Goodall: Eternal light
Jenkins: Adiemus
Lauridsen: O nata lux
Lauridsen: Les Chansons des roses
MacMillan: Missa brevis
Macdowall: Shipping forecast
Rutter: Birthday madrigals
Rutter: Feel the spirit
Rutter: Sprig of Thyme
Todd : Mass in Blue
Whitacre: Collection
In the mood (ed. Blackwell/Carter)
Les Miserables SATB
Adele: Someone like you SATB
Leonard Cohen: Hallelujah SATB
Why not visit their website at www.cymlibrary.org.uk?
Peter and Ceri of CYM