Refreshed service on a new platform
IAML(UK & Ireland)'s Documentation Committee Chair, Caroline Shaw, tells us about an exciting new platform to help orchestral and choral organisations locate performing materials via UK libraries.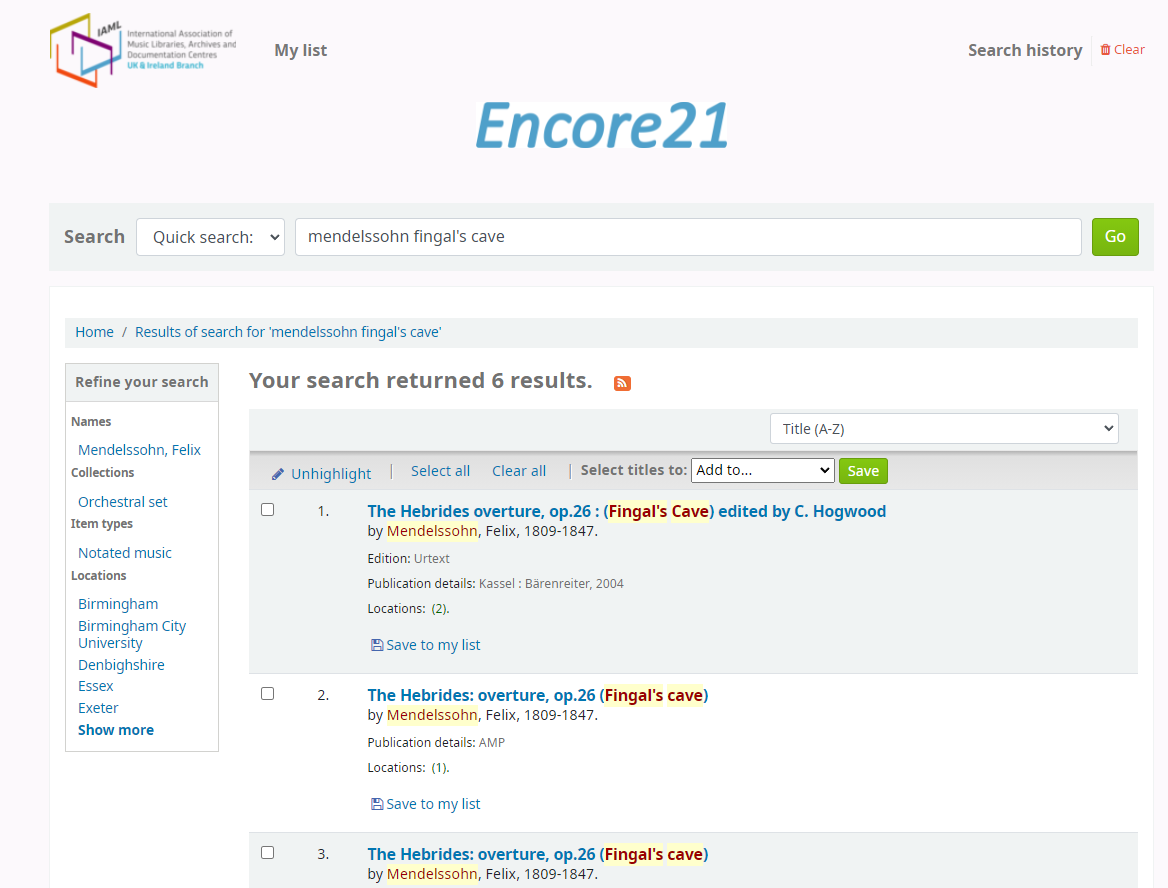 The Encore21 Migration project Working Group is delighted to announce the launch of the refreshed Encore21 service. Encore21 is the UK's union catalogue* of performance sets, a project of IAML (UK & Ireland), established with support from the British Library Co-operation and Partnership Programme.
The new system is live in a read-only version from 19 October, and available for editing by logged in users from 25 October.
The catalogue has now migrated to a Koha system, implemented and hosted by PTFS Europe. Koha is an open-source library management system, developed initially in New Zealand. Of the options considered, Koha best fitted the Encore21 requirements. Koha is also used by various other specialist music institutions, such as the Royal College of Music, London, and Leeds Conservatoire.
IAML (UK & Ireland) acknowledges with warm thanks the prior free-of-charge hosting of the Encore21 catalogue since 1995, by Bibliotekenes IT Senter (BIBITS) of Oslo, Norway, and Mikromarc UK Ltd.
What is Encore21 and how does it work?
Encore 21 contains information about the library locations of about 92,844 borrowable sets of orchestral and vocal music. The catalogue data is in MARC21, the international library record exchange format. There are 102 participating libraries, of which approximately two thirds are public libraries. The catalogue is used typically by libraries seeking to borrow material from other libraries using the well-established inter-library loan service (ILL), as well as by musical groups such as choirs, orchestras and bands.
An individual who searches Encore and finds a set they would like to borrow should note its details and apply to their local library service to request the set through inter-library loan.
Why does Encore21 not include real time availability information?
Ideally, users would like to use the system to find out whether a set is available for loan, and to order or reserve it. Unfortunately, to build this functionality would be a complex and costly project, given the number of authorities and institutions involved, and their different internal systems, funding models and user charges. This functionality was always out of scope for the current project. However, we are confident that on its new platform, and with strong technical and administrative support, Encore is well prepared to play its part in any future collaborations and developments in this direction.
The Working Group
Huge thanks to the Encore21 Migration Project Working Group who have worked incredibly hard, mostly in a voluntary capacity, to make this happen. They are:
Encore21 Migration Manager: Martin Feijen
Encore21 Expert: Malcolm Jones
Metadata Analyst and Documentation Committee Chair: Caroline Shaw (chair)
IAML (UK & Irl) Webmaster: Antony Gordon
User Representative: Charlotte Jones (Performance Sets Officer)
Administrator: Anna Wright
Platform Manager: Jane Henshaw
Platform Manager: Catherine Small
Many thanks too to Amelie Roper, who did a vast amount of preliminary work on the project.
What next?
The new system is intuitive and easy to use, according to very positive user feedback during testing. It is entirely web-based, including the cataloguing interface, not requiring any software to be installed on local computers. It is freely available and does not require a log-in to search. However, we strongly encourage institutions to request log-in details so that they can edit their own holdings.
Look out for the following:
A training video for end-users, available on YouTube. One of the purposes of this video will be to assist library staff who may not be very familiar with music formats or vocabulary and help them to navigate the new system as quickly and easily as possible
An updated training manual for Encore cataloguers and editors
An online training session for Encore cataloguers and editors
To request log-in details, or for any other queries about the system, please contact encore21-info@iaml-uk-irl.org
Caroline Shaw

* A "Union Catalogue" is library-speak for a catalogue combining the holdings of a number of different libraries. – Ed.